A magical space
Curving flagstones lead to a dining terrace tucked into a sloped garden.
The lush plantings include fullmoon maple (Acer japonicum), deciduous magnolias, native ferns (Adiantum aleuticum, Blechnum spicant, and Polystichum munitum), hellebores, rhododendrons, Siberian irises, smoke tree, and yew.
Rock border
When a gravel path and adjacent planting beds are new, the transition from bare soil to gravel can give the garden an unfinished look.
One solution: Define the path edges with larger stones. As plants grow, they'll tumble over and hide the rocks.
In this garden, lady's-mantle with chartreuse blooms surrounds the stone fountain in foreground, while cape fuchsia (Phygelius) with orange-pink flowers spills into the path.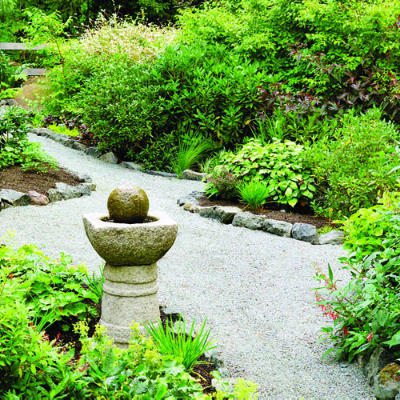 Mediterranean style
A crunchy gravel entry is a clean casual foil for plant textures and colors.
Japanese silver grass billows over the basalt wall at right beside climbing hydrangea.
'Maori Sunrise' New Zealand flax in a container punctuates the small pond in the middle while 'Palace Purple' heuchera mugho pine and gunnera fill a bed near the house. Cotoneaster spills onto gravel.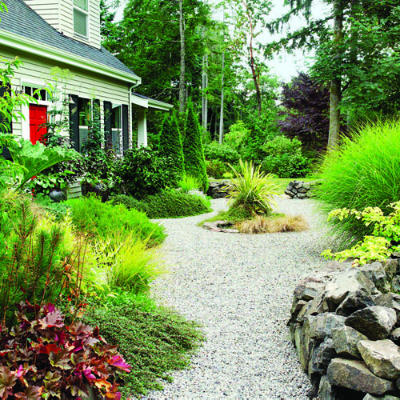 Two-day path project
You can install this pretty path in about a weekend. (The plantings take a little longer to mature; they'll look like this in about nine months.)
The gently curving path invites you to stroll among the plants, and leads to a small circular patio.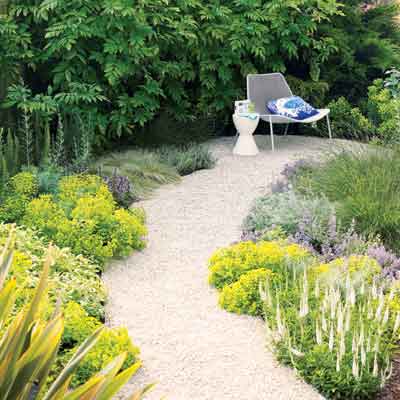 A bridge for seasonal runoff
Mix gravel with rocks of varying sizes to add interest in large areas. In the landscaping pictured here, this technique also solved a drainage problem.
The gravel path, edged on the right with 'Libelle' hydrangea and a bank of maidenhair ferns, straddles a cluster of large, flat stones that creates a bridge over a seasonal runoff channel.
Water runs through a pipe hidden beneath the channel's river rocks to a catchment pond at the far end.