Storybook setting
Irish moss adds classic charm to an informal path flanked by river birches.
Creeping Jenny, yellow-green Japanese forest grass, campanula and variegated boxwood mingle in the garden bed.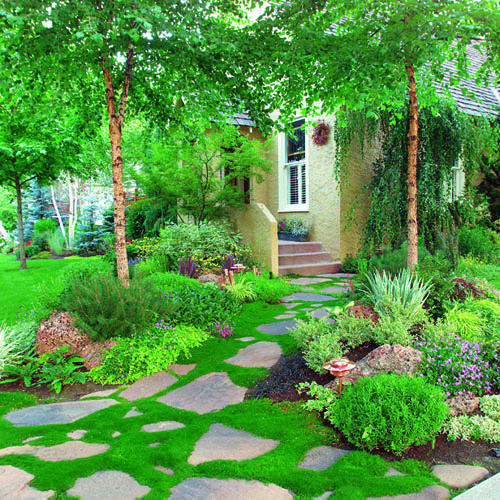 Ingenious hidden path
How do you access a side-yard utility area with a hedge in the way? A secret path through a hidden opening.
Designer Brenda Gousha planted two 6-foot-long overlapping hedges of Carolina cherry laurel (Prunus caroliniana) and ran a 2-foot-wide path between them.
Gousha says walls of foliage also make the perfect outdoor room. ďWhen my husband and I sit out here, weíre just a few feet from the street. But we have complete privacy.Ē
Full story
Design: Brenda Gousha, Sisters' Specialty Gardens, Rancho Santa Fe, Calif.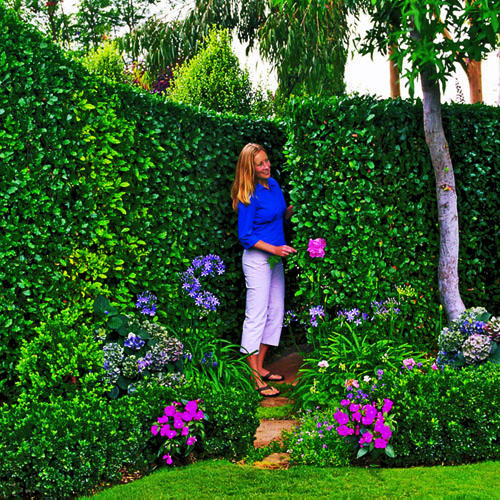 Easy-care front yard
Flagstone paths curve through a low-water front yard. A low berm of soil on either side of the walk adds interest, and weed cloth topped with pea gravel allows excess water to soak into the earth rather than run off into the street.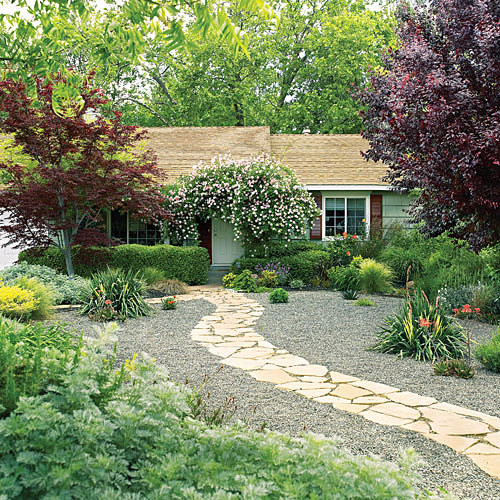 Garden art
In Newport, Calif., geometric steppingstones crossing a small pool give the illusion of walking on water.
A piece of art tucked amid greenery at the end of the path treats visitors to a visual surprise.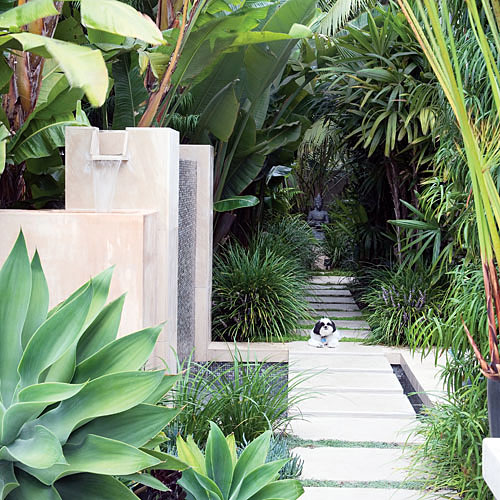 Native fence
A decomposed granite path passes through a fence and gate made from Ocotillo (Fouquieria splendens), a Southwest native.
The winding walkway invites exploration of more of this casual low-water landscape.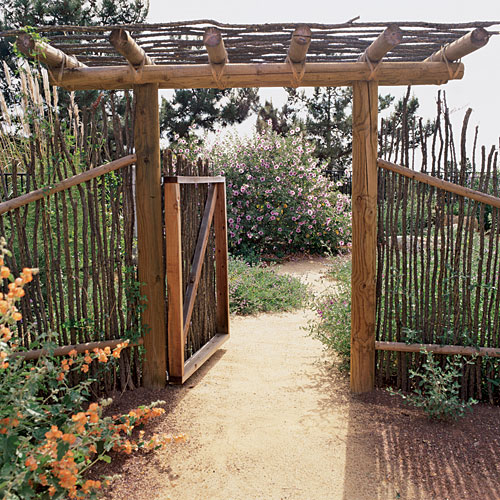 Keyhole vegetable garden
A central pathway wraps around this veggie patch, making working the beds a snap.
Itís positioned so the opening faces south; the larger plants in back (beans, tomatoes and sunflowers) wonít shade smaller plants.
The gardener tilled the planting areas 8 to 12 inches deep, but didnít till the keyhole (path). As long as the ground there is packed, weeds will have a hard time sprouting.
Thyme travel
Creeping thyme isnít strong enough for rough activities like soccer, but it handles ordinary foot traffic with ease. That's why Lynne Blackman chose it to line the paths of a classical labyrinth at her Del Mar, Calif., home.
Like a giant rug laid out on the grass, blue-gray thyme is soft underfoot. River cobbles mark off the pathís edges.
Blackman and her husband, Vernon, walk the labyrinth regularly. Children, who donít yet appreciate the rewards of a meditative pace, race through it.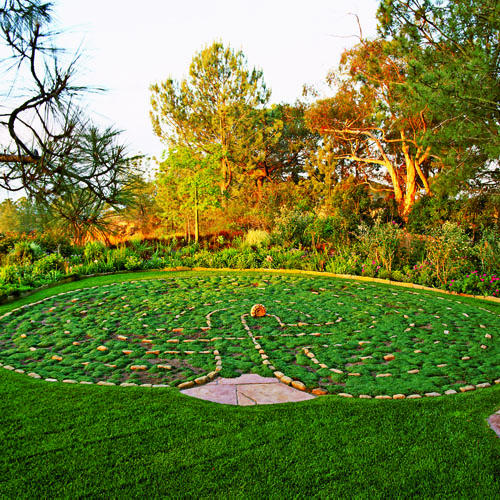 Make the most of a tight spot
Transform the narrow alley next to your home into functional space.