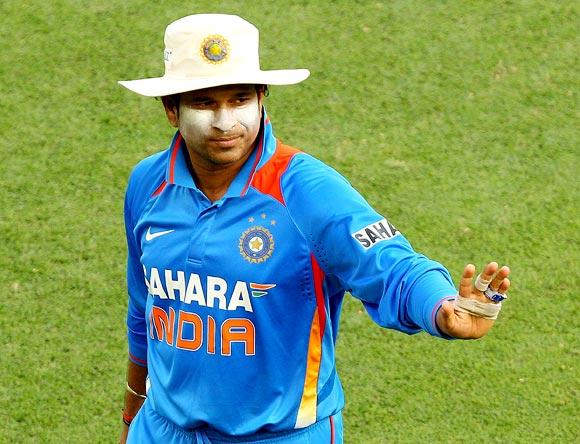 He did not have the best of starts to his One-Day International career, as he registered two ducks in a row in his first two games, but by the time he hung up his boots, Sachin Tendulkar finished as the greatest batsman to have graced the limited-overs' format.
It was no sheer coincidence that the nearly-dying One-Day Internationals came alive and became a hit among the masses during the Tendulkar era that stretched from December 1989 to March 2012.
Yes, you had Viv Richards, Ricky Ponting, Adam Gilchrist, Matthew Hayden, Javed Miandad, but there is no doubt that Tendulkar was the best batsman to have played ODIs.
No batsman had the ability or the eye to dominate bowlers or score consistently like Tendulkar did during his 23-year reign in ODIs, which saw him amass 18426 runs in 463 matches at an average of 44.83, while hitting 49 centuries and 96 fifties on the way to establishing his greatness in modern day cricket.
The next best batsman was Ricky Ponting, who finished a distant second with 13704 runs in 375 matches at an average of 42.03.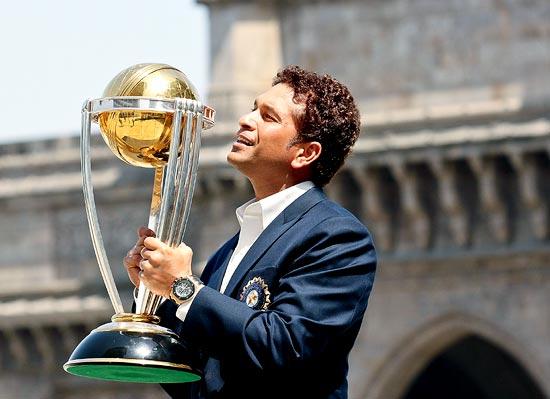 Tendulkar timed his retirement to perfection. Many felt he should have given up after winning the World Cup last year, but he chose to continue because he enjoyed scoring runs and winning matches for his team.
At 39, he realized he could not continue till the next World Cup in 2015 and decided to opt out in order to help the selectors build a team for the future. It was a selfless decision as Tendulkar had the option of playing ODIs for another year or two without worrying about his place in the side.
It is hard to imagine cricket without Tendulkar, quite simply because he has been a dominating presence in the Indian team since making his debut as a 16-year-old against Pakistan in November 1989.
Many big players came and went by, but Tendulkar stood like a rock, soaking in all the adulations, criticisms, pressures and everything else that came with fame and success.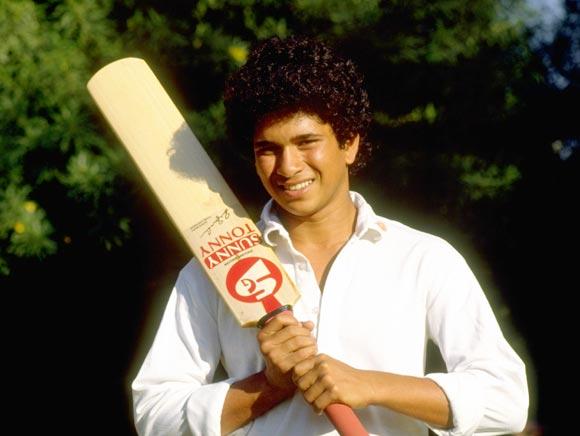 It is tribute to his greatness that he managed to consistently give his all to cricket in the last 23 years. Preparing for an international game is never easy and involves a lot of hard work and dedication and Tendulkar never looked for a short cut even though he had an abundance of talent.
With age, his reflexes slowed down and injuries started to affect him, but he adapted to the situation quite well and modified his batting style, but never did he comprise with the team's interests.
He was a total team man till the end, as the statistics prove too, with India winning more than 50 percent of the matches (234 wins out of 463) he was involved in and his contribution in those games was 11,157 runs at an average of 56.63.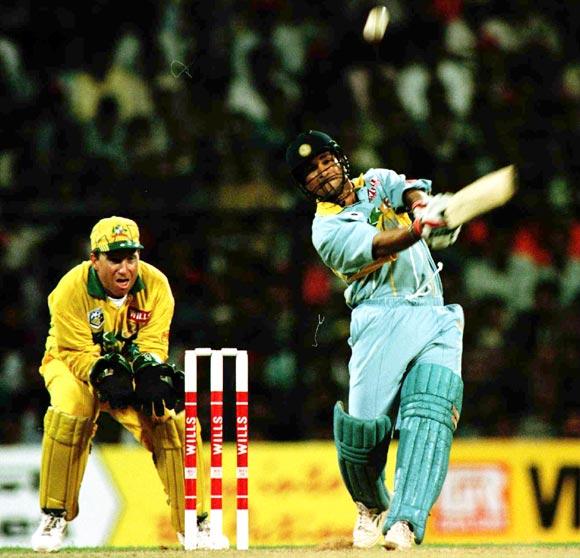 Even though there was madness all around him, there was nothing of the sort to his approach to cricket.
Tendulkar always had a steady head on his shoulders; it never ever wavered even when he achieved a lot of success at a young age.
With the bat, he was special, a sight to behold, his free-flowing cover drives, upper cuts, pull shots, flicks through midwicket, straight drives left bowlers helpless spectators. These memories will remain with us forever.
Some of the Tendulkar's great innings came in ODIs in the 1990s and the early 2000s when the bowlers didn't have a clue where to bowl to him. Some of the best bowlers of their era, like Glenn McGrath, Shane Warne, Shaun Pollock, Muttiah Muralitharan, Wasim Akram, Waqar Younis among others, suffered at his hands.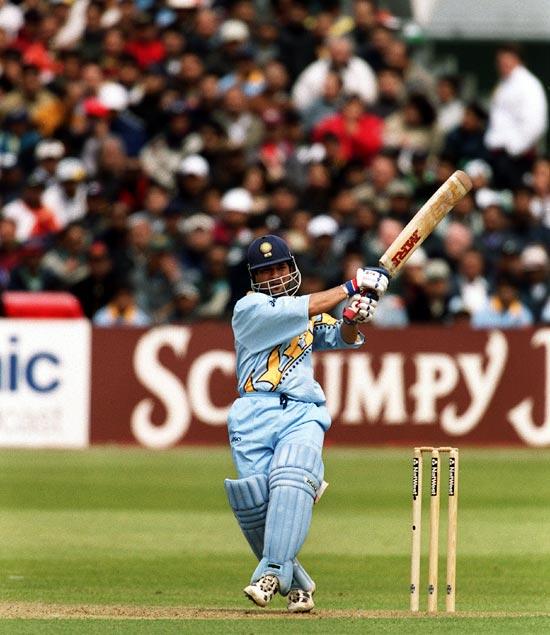 One can never forget Tendulkar's first ever innings as an opener in ODIs, when he tore apart the New Zealand bowlers, smashing 82 from just 49 balls, hitting 15 fours and two sixes.
There was no looking back after that as he set sail on the one of the greatest careers ever in One-Dayers, including his twin hundreds in Sharjah against the Australians, in 1998, who boasted of the best bowling line-ups then, including the likes of Glenn McGrath and Shane Warne.
His century (140 not out from 101 balls) in the 1999 World Cup against Kenya in Bristol was also special as he returned from his father's funeral the day before to steer India's campaign in the tournament.
With age, Tendulkar cut down on his flamboyance and aggressive approach, especially after the arrival of the dashing Virender Sehwag. The duo formed one of the most dangerous opening pairs of all time and when they got going it was a sight to behold.
Pakistan was one team that suffered at their hands, as an inspired Tendulkar led the way with some breathtaking shots against the pace battery comprising of Wasim Akram, Waqar Younis and Shoaib Akhtar during the 2003 World Cup.
The world got to see a new side of Tendulkar, who took on the pacers with his trademark uppercut leaving the Pakistani pacers in a daze during his breathtaking knock of 98 from 75 balls.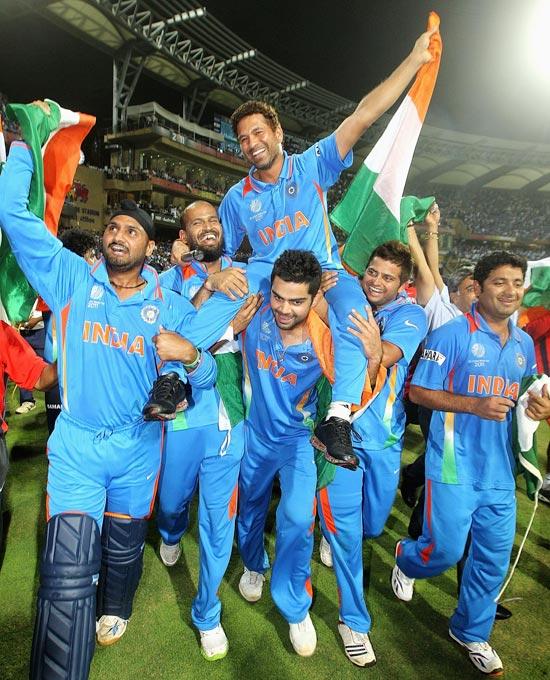 The 2007 World Cup proved one of the rare low points of Tendulkar's glittering ODI career but he made up for it by winning the next edition at home four years later.
Tendulkar, then 37, played out of his skin to bring back the coveted World Cup after a long wait of 28 years. He finished the tournament with 482 runs in nine matches at an average of 53.55; his unbelievable knock of 111 from 101 balls against South Africa, where he took apart the deadly pace duo of Dale Steyn and Morne Morkel, is still fresh in our minds.
The Indian team rightly dedicated the World Cup victory to Tendulkar, who had waited such a long time for this triumph. Playing in his sixth World Cup, the maestro finally captured the elusive trophy he had longed for all these years.
Just when everyone thought he had no other record to achieve, Tendulkar created history by becoming the only batsman to hit a double century in ODIs, when he hammered 200 not out (147 alls) against South Africa in Gwalior in February 2010.
His last tournament in ODIs was the Asia Cup last year when he made 114 against Bangladesh to complete his 100 centuries in international cricket, in March.
Tendulkar's final innings in ODIs was 52 against Pakistan in that same tournament, the same opponents against whom he had made his ODI debut in December 1989.
And, least you forget, the last ball he ever played in One-Dayers was his dismissal, when he was caught at first slip off Saeed Ajmal. When he walked back then little did you realize that this was the last time you would see him bat in ODIs, as it brought to an end of the greatest careers to have graced the sport.
But the positives from all this is that Tendulkar will only play in Test cricket, where India needs him more than ever at this moment. The Test team is in complete shambles and Tendulkar's experience should help India get over this tough period of transition, if he can get back to scoring runs.
Even though he will play Test cricket for some more time, it is clear that his place in the ODI team will always be missed. He was special and will always remain that for his millions of his fans worldwide.
Quite simply, there never will be another Sachin Tendulkar.
Sachin Tendulkar's 10 most memorable knocks in One-Day Internationals.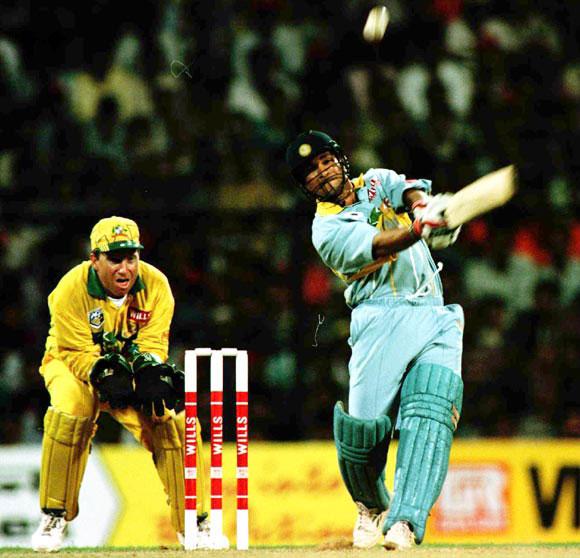 143 (131 balls, 9x4, 5x6) vs Australia in Sharjah (Coca Cola Cup, 1998)
This was a match not even the most die-hard Indian fan would have rued India's loss. Yes, India lost, but Sachin won millions of hearts with his incredible batting. There was joy even in the defeat.
India were confronted with the challenge of scoring 285 to win or 254 to pip New Zealand and qualify for the final on net run-rate.
The Indians initially appeared apprehensive to attack. Once Tendulkar opened up with a six off Michael Kasprowicz, the flow of runs improved. Tendulkar was batting with a plan in mind, but the task was becoming tougher as the pitch was slow. Mohammad Azharuddin was unable to get his timing right and inner-edged a harmless delivery.
Ajay Jadeja played away from the body to increase the misery, with Tendulkar aghast at the application at the other end.
VVS Laxman then joined Tendulkar with India staring defeat in the face as almost a run-a-ball was needed in the remaining overs. As if things were not bad enough, a dust storm then hit the stadium, halting the game for about half an hour. India's target was revised to 276 to win and 237 to qualify. 'I'll do it,' he promised Aunshuman Gaekwad, the coach, and did it in style.
When play resumed, India needed 94 runs in 15 overs. Soon Sachin tore into the Aussies, sending the spectators into ecstasy. With every man inside the stadium rooting for Sachin, the 11 men in the opposition just stood by and watched an epic performance by the little matser.
After ensuring that India qualified for the final, Sachin went for an outright win. He finally fell for 143. It was an innings unmatched in heroism at this venue with the exception of that great knock by Javed Miandad.
India lost the match by 25 runs in the end, but that did not matter. There was only one winner that day: Sachin Tendulkar!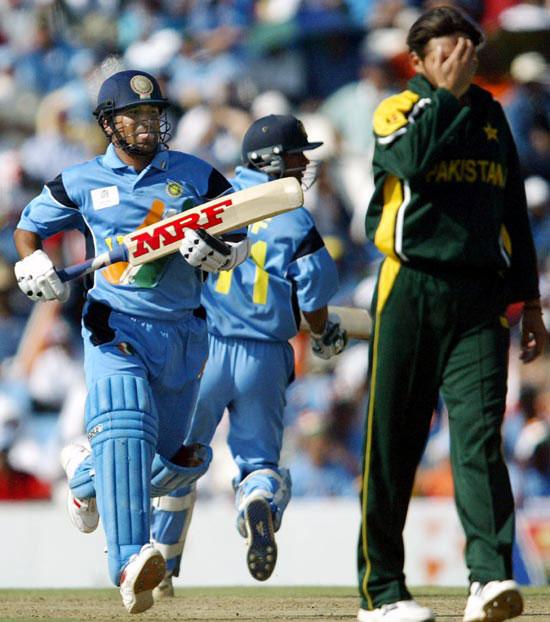 98 (75 balls, 12x4, 1x6) vs Pakistan in Centurion (World Cup, 2003)
India maintained their winning streak against Pakistan in World Cup matches. India were chasing a challenging target of 274. The Pakistan attack comprised Wasim Akram, Waqar Younis, Shoaib Akhtar, Abdul Razzaq and Shahid Afridi.
India needed a superb innings from the maestro and he did not disappoint.
Tendulkar took first strike and just tore into the Pakistan attack. His six over thirdman off Shoaib Akhtar stunned all and sundry. It was a defining moment of the match.
Pakistan could never recover from the thrashing they got from Tendulkar. With Tendulkar just two runs away from his hundred, Akhtar finally managed to dismiss him of what looked like an illegitimate delivery, but Tendulkar had put India into a position from where there was no looking back. His six off Akhtar was later described as the best shot of the tournament.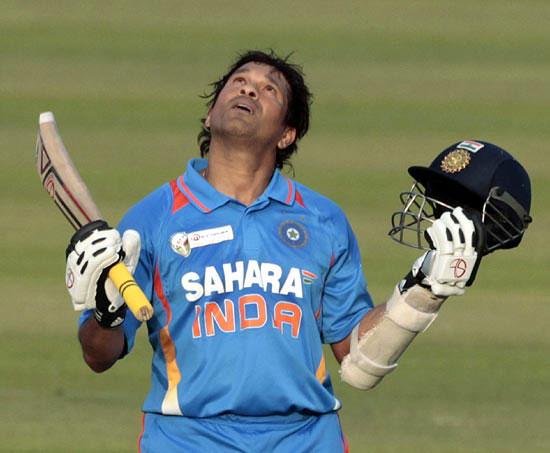 200 not out (147 balls, 25x4,3x6) vs. South Africa in Gwalior (Bilateral series, 2010)
A summit was scaled that day at the Roop Singh stadium as Tendulkar became the first man to conjure up a double hundred in ODIs.
He had set many benchmarks, but this one was a gem. He had scored just four in the preceding match, but was fiercely determined on this occasion. He was light on his feet and heavy with his shots. The maestro's innings was splendidly paced.
His 50 consumed 37 balls, 100 came off 90 and 150 off 118. The South Africans ran out of ideas. Sachin got to the coveted mark with just three balls to spare, but he was worthy of the honour. World cricket had waited 40 years for this moment.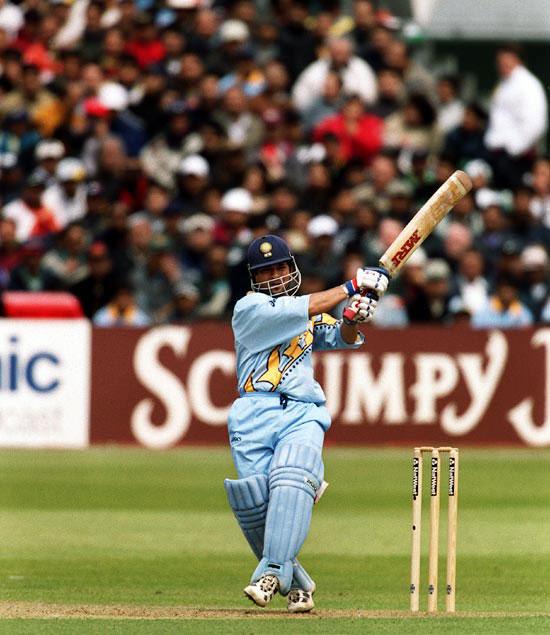 134 (131 balls, 12x4, 3x6) vs Australia in Sharjah (Coca Cola Cup, 1998)
It was Sachin's birthday and he celebrated it in style, guiding India to an emphatic six-wicket win over Australia in the Coca Cola Cup final.
India were chasing a target of 273. Tony Greig commentated on TV: 'Sachin will be feeling a little bit drained from his previous effort and the weight of the entire Indian population's hopes will be on his young shoulders.'
It was true, as, initially, Sachin was not connecting the ball the way he would have liked to.
The correct ball had to be chosen and it was here that Sachin stood out from the rest. He kept up the momentum with his artistic batsmanship. Soon he started to unleash some of his breathtaking shots, smashing the ball mercilessly. One delivery from Michael Kasprowicz was deposited to the stadium's roof. The disdain he had for the Aussie bowlers was just his way of conveying his anger at being sworn and glared at by some of them.
It required a horrible decision by umpire Javed Akhtar to end the great effort by Tendulkar. But he had ensured India were well on the road to the victory. In the end, it was a fitting finale to the tournament.
Rarely has an individual dominated a tournament as Tendulkar did in this tournament. The biggest compliment for Tendulkar came from Shane Warne, who took off his shirt for an autograph of the batsman he respects most.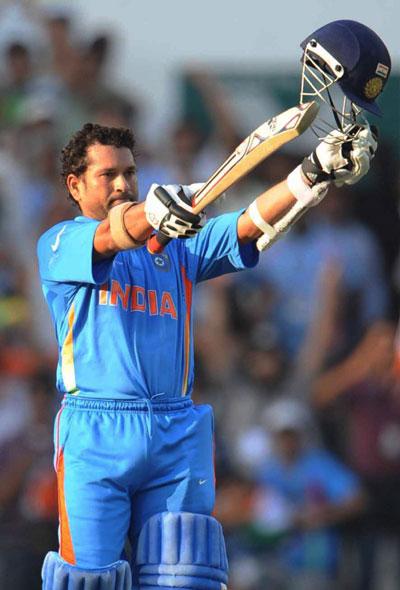 175 (141 balls, 19x4, 4x6) vs Australia in Hyderabad (Bilateral series, 2009)
It was a night that broke hearts.
The evergreen script of Sachin Tendulkar single-handedly fighting cricket battles for India was enacted again. In the end, sadness and silence lingered. The maestro, egged on by the challenge of a daunting target and a familiar foe, played an incandescent innings that raised hopes at the Rajiv Gandhi International stadium.
Chasing Australia's 350 for four, Tendulkar was soon punching, pulling, tucking and lofting the Australian bowlers. He unleashed almost all the strokes from his repertoire. Such was his mastery that while shaping to pull Adam Voges, he realised that the ball was fuller in length and quickly shortened his back-lift to whip the ball past a bemused Ricky Ponting at mid-on.
He and Suresh Raina put on a century partnership for the fifth wicket and a fairytale began to take shape. The equation boiled down to 75 runs from last 10 overs and then 41 from last 5. But Raina and Harbhajan fell in succession.
Tendulkar's effort scoop one over short fine-leg proved fatal. India needed just 8 off last over, but the tailenders ran themselves out. Australia won by three runs, leaving Sachin and millions of fans heartbroken.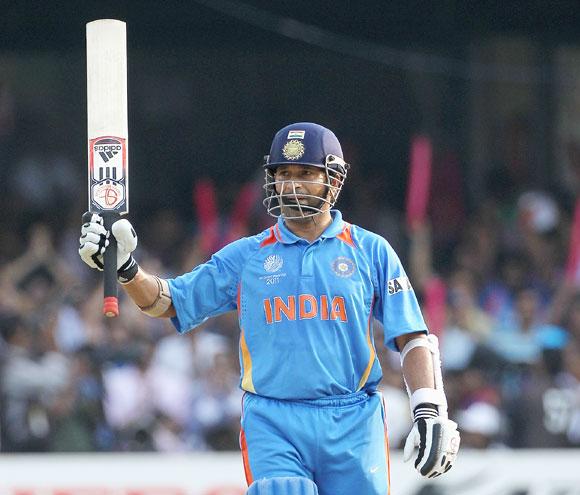 82 not out (49 balls, 15x4, 2x6) vs New Zealand in Napier (Bilateral Series, 1994)
This was an innings that changed the shape of Indian and world cricket forever. Till this time Tendulkar had played 69 ODIs, scoring 1758 runs, at an average of 30.84.
Tendulkar was quite frustrated, as his batting position lower down the order was not giving ample overs to score more. It was the second match of the series, with India having lost the first one. Regular opener Navjot Singh Sidhu pulled out on the eve of the match and Tendulkar was entrusted with the task of opening the innings. This was the moment Tendulkar had been waiting for in the last couple of years.
New Zealand were dismissed for 142. Tendulkar walked out to bat with Ajay Jadeja and suddenly the dozing spectators were wide awake with wonderment. Tendulkar just set the ground on fire with his blazing stroke-display.
The match was over in just 23.2 overs, with Tendulkar causing mayhem among New Zealand's ranks. His innings consisted of just 22 scoring shots and his boundary-tally was more than the entire New Zealand side had managed! Even the two umpires joined the crowd as well as the Kiwi players in the applause.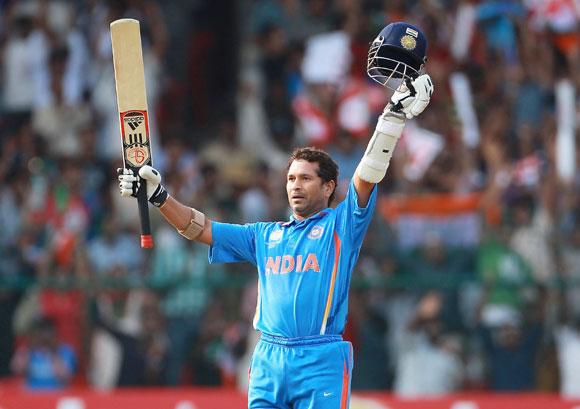 140 not out (101 balls, 16x4, 3x6) vs Kenya in Briston (World Cup, 1999)
A century against a non-Test playing nation would not have usually made it to list of Sachin's best knocks. It does find a place because the circumstances in which this innings was played.
India were under pressure to win this game to stay in the competition as they had lost their previous two games to South Africa and Zimbabwe. Sachin did not play against Zimbabwe as he had to return to India because of unfortunate death of his father.
With the team needing him, he put his personal tragedy behind and returned to England. He arrived a day after his father's funeral and produced an innings, which shall rank among all-time best.
Setting aside his personal grief, he took India to a big score, thus setting up a comfortable win. He was crafting this century for his 'baba' and his first reaction on reaching the landmark was to look up to the skies, in reverence to his late father.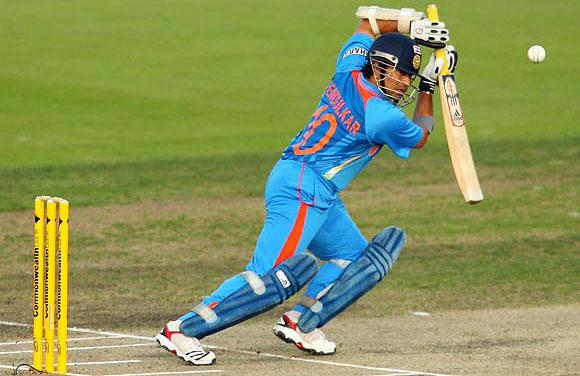 110 (130 balls, 8x4, 2x6) vs. Australia in Colombo (Singer World Series, 1994)
On a humid day, when even the reserves got tired of rushing drinks to the middle, Sachin scored his first ODI century as he smashed the Australian attack to set up India's victory.
The Premadasa stadium was a noisy cauldron as Craig McDermott, Glenn McGrath, Shane Warne and Tim May came to grief against the 23-year-old.
Sachin, who opened the innings, took charge and maintained a rollicking pace even as Manoj Prabhakar, Navjot Sidhu and Mohammad Azharuddin fell.
He was at ease with the task when Vinod Kambli joined him. The Aussies, especially Warne, were mauled and a great rivalry with the leg-spinner was born that day.
118 (140 balls, 8x4, 2x6) vs. Pakistan in Sharjah (Pepsi Cup, 1996)
Victories in Sharjah have been rare and ought to be cherished. Sachin's eighth century stays in memory for the fact that a sensational batting performance was followed by victory.
An attack, comprising Waqar Younis, Aaqib Javed, Ata-Ur-Rehman, Saqlain Mushtaq and Aamer Sohail, was savaged by Sachin's clinical batting.
Most Indian restaurants in Dubai offered heavy discounts that night, while some even entertained their customers free.
139 (125 balls, 19x4) vs.Australia in Indore (Bilateral series, 2001)
India thumped Australia by a massive margin of 118 runs. There were others who contributed towards India's win, but none could match Tendulkar's brilliance.
Everything else paled as Tendulkar took charge. He played the ball on merit, and paced the innings as only he could. The batting giant scaled one more grand summit in compiling his 28th ODI century.
If Sunil Gavaskar was the first batsman to cross the 10,000 run-mark in Test cricket, Tendulkar achieved the feat in ODIs.
Some of the shots he played just baffled the bowlers and left a mentally-strong man like Steve Waugh helpless.