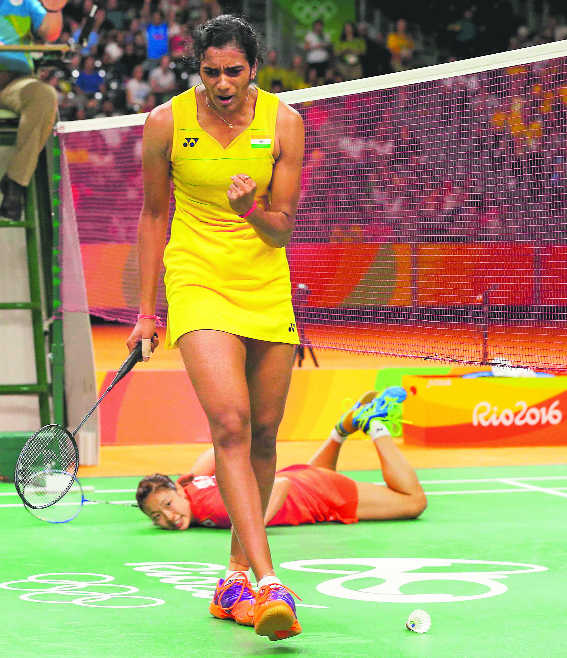 PV Sindhu picked up her game in the most important match of her life yet, to reach the final of the badminton tournament, securing herself and India at least a silver medal.
"This has to be one of the best matches I've played," Sindhu said after beating Japan's pixie-like, fleet-footed retriever, Nozomi Okuhara 21-19, 21-10 in the semifinal that lasted 51 minutes.
Sindhu will fight for gold tomorrow with the formidable Spaniard Carolina Marin, who won 21-14, 21-16 against defending champion Li Xuerui.
Raising the game
Nozomi is five foot one inch tall, dwarfed by the five-feet-eleven tall Sindhu. Sindhu smashes powerfully, and Nozomi moved across the court like lightning, picking up shuttles back and forth, left and right. She leaps high and smashes hard, and she flicks her wrist to change direction; when she's short of the shuttle, she's apt to dive, down to her knees, and then come up to actually win points from defensive positions. The little Nozomi is the Rafael Nadal of badminton — when she's moving well, her opponent is likely to wonder where the next point is going to come from — how many potential winners is she going to pick up?
Nippon's Retriever
Sindhu had lost their last encounter, and she had to be at her best to beat Japan's little big retrieving machine. And Sindhu was at her best. Sindhu tends to make unforced errors when she's over-eager to use her main strength, her height and smash; today too she made several unforced errors. But her strengths today were much, much bigger than this weakness. She moved well and did not over-use her smash; she dropped the shuttle, bent low to the net to pick up shuttles, and got lucky on at least two occasions when she hit the net cord and the shuttle dropped vertically on Nozomi's court.
Sindhu began with a great spurt, 4-0 and 5-3 up within minutes. Nozomi got closer at 4-6, and Sindhu got three points in a row with a strong smash to Nozomi's backhand, a deceptive drive wide of Nozomi's forehand, before she feinted for a smash but dropped the shuttle.
Nozomi kept biting at Sindhu's heels with her beautiful movement across the court, her dive-picks and her lovely drops. But Sindhu pulled away to 16-13, and Nozomi attacked her serve brilliantly to be 15-17 behind. Sindhu played her best point of the match when she dived left to retrieve a smash with her backhand, then rose up to hit a winning smash of her own to a faltering Nozomi's right.
Sindhu earned two game points when Nozomi hit a drop at the net; Nozomi saved one of them with a fantastic smash to Sindhu's left, opening up the court, following up with a great winner straight down. Sindhu took the game 21-19 when Nozomi smashed into the net.
Sindhu went up 3-0 in the second game, but Nozomi won five in a row to lead 5-3; the two girls, playing very high quality badminto, exchanged points until 10-10, before Sindhu pulled away — Nozomi was unable to pick the smashes that started coming her way. At 15-10, Sindhu hit a great forehand, sending Nozomi sprawling to the ground as she went to pick it up, but failed.
The stadium reverberated with shouts of "India Jeetega, Go India Go". Sindhu continued to motor on — she got to 20-10, and 10 match points, when Nozomi didn't have it in her to move to pick up a drop — she didn't have the legs and the spirit to go for it.
Sindhu finished the match with a massive smash, leapt in the air, shrieked in delight. In two days, playing the game of their lives, two young women had secured two medals for India.
Sindhu unplugged
How did it go?
I didn't think it would finish in two games because it was going to be a big match and she didn't leave any shuttles. I feel she played a good game because there were long rallies. In the first game it was 19-all and anybody's game and so those two points were really very important for me.
You won 11 points in a row to win the second game and match.
It was going equal as well in the second game, until 10 points-all. At 11 points, I made the break and from there I just took a huge lead. I didn't take it easy because you never know what can happen in that moment, so I kept going and won.
How do you analyse your performance?
Made so many unforced errors when my passes were going into the net, but then my coach said, 'It's OK, keep going, keep going', so I was really alert on every point.
You've got to the final!
It's a great moment for me to play in the final, so I just have to give my best and play my 100% game. There's just one more match to go and I am really focused and prepared for it. Marin is a very tough opponent and it's not going to be easy tomorrow as it's an Olympic final and she is really playing well. She played brilliantly again against Li Xuerui today. I think whoever plays well and gives their best tomorrow is going to win.
Gopichand speaks
Talk about Sindhu's performance.
She's played very well through the event, right from her first match. Today too she played great. She's up against a tough player, Carolina Marin, tomorrow and we'll give it our best shot.
When did it change in the second game?
At 8-8, it was an important point. It was a very crucial moment of the day... The moment Sindhu went up, the Japanese girl cracked.
What have you been working on?
Over the last few months, we've worked hard on many aspects of Sindhu's game. She's in a good shape physically, she's been a great fighter.
You showed emotion today.
I became excited and emotional because today was a very important match. The last few days have not been so great, though she had good wins. But I wasn't able to celebrate because it could have been so close and yet so far (if she'd lost today).
Your second Oly medal as coach.
We play for this moment, we have the chance to live the spirits of our country through our performance. Not too many people are in this position. We're really blessed by god to have this opportunity. We should grab it and use it.