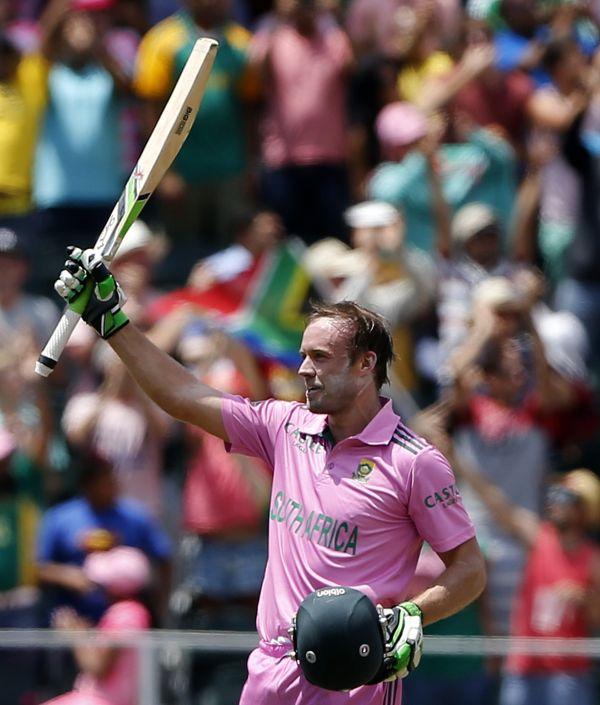 AB De Villiers required just 31 balls for his genius to propel him to the fastest ever one-day international century, a matchless masterclass that left even Chris Gayle bowing in admiration as South Africa walloped West Indies on Sunday.
Dazzling improvisation and sustained, controlled butchery, the like of which cricket has rarely seen, saw De Villiers score 149 from just 44 balls as the crowd at the Wanderers could only gasp in awe as he peppered them with a record-equalling 16 sixes.
His amazing effort, quite overshadowing an unbeaten, bat-carrying 153 from Hamish Amla and a maiden hundred by another teammate Rilee Rossouw, powered South Africa to 439 for two, their highest total in this 50-over format.
They then restricted the tourists to 271 for seven for a 148-run victory and a 2-0 lead in the five-match series but the result felt almost academic as the cricket world was still reacting in astonishment to De Villiers' heroics.
"I've been saying for the last 30 years that Viv Richards has to be the best batsman of all time, even better than Sir Don Bradman in my book, but I'm going to have to reassess because this guy is something extraordinary," was former England paceman Bob Willis's view.
De Villiers also set a new record for the fastest half-century as well
Described by retired Australian stumper Adam Gilchrist as the "most valuable cricketer on the planet" this week, De Villiers reinforced this verdict with nine fours to accompany his 16 sixes - that's 132 in boundaries - to better New Zealander Corey Anderson's 36-ball ton against West Indies last year.
It took De Villiers just 40 minutes to power to his hundred and his final tally of 16 sixes equalled another one-day world record set by India's Rohit Sharma during his 209 against Australia in 2013.
When he was finally out, caught on the cover boundary attempting another six, almost 22,000 inside the Bullring rose to their feet in appreciation, while West Indies' own master-blaster Gayle bowed and offered a handshake of congratulation for one of the all-time great innings.
Coming out to bat at number three in the 39th over after a 247-run opening stand between Amla and Rossouw (128), De Villiers took no time in setting a new record for the fastest half-century as well.
He reached the milestone in 16 balls, improving the previous best mark of Sri Lankan Sanath Jayasuriya against Pakistan in 1996 by one ball.
"I had a lot of time to warm-up in the change room to get myself going," De Villiers said at the post-match presentation, before revealing he had not wanted to bat at number three.
"(Coach) Russell Domingo made a good call to ask me to go in, I wanted to send in David (Miller) to take the left-arm spinner on."
'It actually irritated me facing those three dots'
Once out there though, he told Amla he would take an over to "have a look" at the bowling, but instead smashed his first ball for four and never took his foot off the gas.
"I sort of played my knock in my head before I even went out to bat and the word 'aggression' was the main thing on my mind."
De Villiers was not aware of the impending record, but says it would not have changed the way he played in any event.
"I was on 92 when I realised it has to be close, but I wasn't sure how many balls Corey Anderson took to get to his hundred. Anyway, I wasn't going to take my time through the 90s."
The perfectionist in De Villiers was still not completely satisfied with his day, though. Because he failed to score off three deliveries!
"I must be honest with you, it actually irritated me facing those three dots," he said. "It's nice to break records but I really hate dot balls and even now those really stand out for me in the innings."
Here is a list of Top ten fastest centurions in ODIs
1) AB de Villiers (South Africa) - 31 balls against West Indies in Johannesburg on Jan.18, 2015.
2) Corey Anderson (New Zealand) - 36 balls against West Indies in Queenstown on Jan.1, 2014.
3) Shahid Afridi (Pakistan) - 37 balls against Sri Lanka in Nairobi on Oct.4, 1996.
4) Mark Boucher (South Africa) - 44 balls against Zimbabwe in Potchefstroom on Sept.20, 2006.
5) Brian Lara (West Indies) - 45 balls against Bangladesh in Dhaka on Oct.9, 1999.
6) Shahid Afridi (Pakistan) - 45 balls against India in Kanpur on April.15, 2005.
7) Jesse Ryder (New Zealand) - 46 balls against West Indies in Queenstown on Jan.1, 2014.
8) Sanath Jayasuriya (Sri Lanka) - 48 balls against Pakistan in Singapore on Apr.2, 1996.
9) Kevin O'Brien (Ireland) - 50 balls against England in Bangalore on Mar.2, 2011.
10) Virat Kohli (India) - 52 balls against Australia in Jaipur on Oct. 16, 2013.