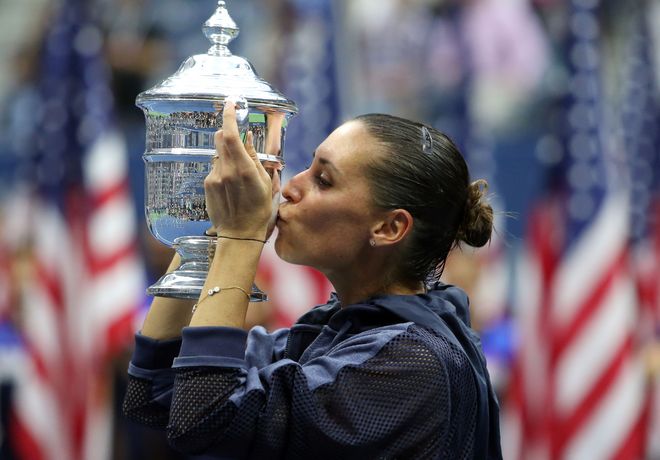 Flavia Pennetta won her first Grand Slam singles title over Roberta Vinci in an improbable all-Italian US Open final on Saturday then added one more shock to a stunning fortnight by announcing her retirement.
With the 7-6(4) 6-2 win, the 33-year-old Pennetta becomes the fourth oldest Grand Slam winner in the Open Era and joins 2010 French Open champion Francesca Schiavone as the only Italian women to win a Major singles title.
But as the celebrations kicked into high gear, Pennetta dropped a bombshell that provided a dramatic finish to the year's final Grand Slam and her career.
After embracing childhood friend and Fed Cup teammate Vinci at the net a smiling Pennetta stood at centre court during the trophy presentation and told a capacity crowd at Arthur Ashe Stadium that included Italian Prime Minister Matteo Renzi that she would retire.
"This is the way I would like to say goodbye to tennis," she said before hoisting the trophy and accepting the $3.3 million winner's check. "I'm really happy. It's what all the players seem to want to do, to go out with this big trophy. And so this one was my last match at the US Open and I couldn't think to finish a better way."
Pennetta's surprise announcement provided a jaw-dropping finish to a Grand Slam packed with surprises. She said it was a decision she made a month ago when a Grand Slam triumph would have seemed improbable and suggested fate may have played a part in her Grand Slam goodbye.
"Maybe that is why I am here today," Pennetta said while embracing the trophy. "I was trying to play every match like it was my last one. Trying to play best all the time. For me it is easy to practise and stay in this life but sometimes it is hard to compete. It will be a new life for me, I played tennis since I was young."
Breathtaking upsets
The unlikely final was set up by breathtaking upsets as unseeded Vinci knocked off world No. 1 Serena Williams in the semifinals to end the 33-year-old American's quest for a calendar year Grand Slam. Pennetta's path to the final included two huge hurdles which she cleared with confidence, taking down Czech fifth seed Petra Kvitova in the quarterfinals and Romanian second seed Simona Halep in the semifinals.
"Miracles can happen. Because I beat Serena, miracle," said Vinci. "And then two Italians can reach the Grand Slam final, a miracle."
"I didn't expect this. I'm so happy that I reach the final. I'm really happy, yeah, even when I lost."