His fighting unbeaten 92 helps India register a 22-run win and level the series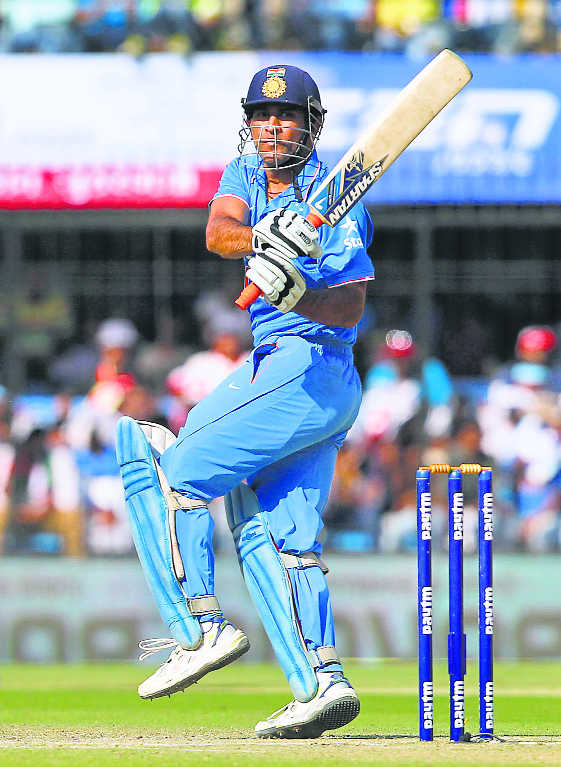 An under-fire Mahendra Singh Dhoni marked his return to form with an unbeaten 92 as India recorded a 22-run victory over South Africa in the second One-dayer to level the five-match series 1-1 here today.
Electing to bat, Dhoni bailed India out of trouble with his 86-ball knock to take the team to a fighting 247/9. His bowlers then bowled out the visitors for 225 to record their first win after three losses — including two in the T20I series — to the visitors. Going through the toughest phase of his international career, Dhoni played a captain's knock and then made smart bowling changes to bundle out South Africa in 43.4 overs.
Axar Patel (3/39) and Bhuvneshwar Kumar (3/41) shared six wickets between them, while Harbhajan Singh (2/51) scalped two in his comeback match.
The nudges, quick singles, shot-arm jabs, pulls, cuts and the lofted shots over the bowlers' heads were all on full display as Dhoni answered his critics with a knock that was decorated with seven boundaries and four sixes. 'Captain Cool' batted with the tail-enders with a calm head as India scored 82 runs off the last 10 overs to put up a decent total, which at one stage looked impossible. India were looking down the barrel at 165/7 in the 40th over, but Dhoni found a great support from Harbhajan Singh (22), with whom he added 56 runs. Ajinkya Rahane had made the other half-century of the innings, getting 51 off 63 balls for his second consecutive 50.
South Africa started their chase on a quick note, stitching a run-a-ball 40-run partnership for the opening wicket between Hashim Amla (17) and Quinton de Kock (34).
With both his frontline pacers proving ineffective, Dhoni introduced spin from both ends from the sixth over. The move yielded an instant result when Patel had Amla stumped after the batsman danced down the wicket.
The fall of two quick wickets hardly bothered Faf du Plessis (51) and JP Duminy (36) as the duo batted with ease to keep the asking rate in control. But just when it seemed the match was slipping from India's grasp, Patel picked up the wickets of Duminy and Du Plessis in consecutive overs to bring the hosts back in contention. Bhuvneshwar made it a triple delight for India in the next over when he induced an edge from David Miller and Dhoni took a fine diving catch to reduce South Africa to 142 for five. South Africa skipper De Villiers made 19 off 20 balls before Kohli took a brilliant diving catch off Mohit to send him back.
Farhaan Behardien kept South Africa in the game in the company of Steyn and Kagiso Rabada but he fell to a dubious caught-behind decision before Bhuvneshwar polished off the tail.
For India, Virat Kohli's poor run continued as he was run out when he was on 12. —PTI
SCOREBOARD
India
R Sharma b Rabada 3
S Dhawan c Duminy b Morkel 23
A Rahane b Imran Tahir 51
V Kohli run out 12
MS Dhoni not out 92
S Raina c †de Kock b Morkel 0
A Patel lbw b Steyn 13
B Kumar b Imran Tahir 14
H Singh c de Kock b Steyn 22
U Yadav c de Kock b Steyn 4
Extras (lb- 2, w-10, nb-1) 13
Total (for nine wkts in 50 overs) 247
Fall of wickets: 1-3, 2-59, 3-82, 4-102, 5-104, 6-124, 7-165, 8-221, 9-225
Bowling
D Steyn 10-0-49-3
K Rabada 10-1-49-1
M Morkel 10-0-42-2
JP Duminy 9-0-59-0
Imran Tahir 10-1-42-2
F Behardien 1-0-4-0
South Africa
H Amla st Dhoni b A Patel 17
Q de Kock c M Sharma b H Singh 34
F du Plessisc Kohli b A Patel 51
JP Duminy lbw b A Patel 36
AB de Villiers c Kohli b M Sharma 19
D Miller c Dhoni b B Kumar 0
F Behardien c Dhoni b H Singh 18
D Steyn c Kohli b U Yadav 13
K Rabada not out 19
I Tahir c Dhoni b B Kumar 9
M Morkel c Raina b B Kumar 4
Extras (lb-3 w-2) 5
Total (all out, 43.4 overs) 225
Fall of wickets: 1-40, 2-52, 3-134, 4-141, 5-142, 6-167, 7-186, ,8-200, 9-221, 10-225
Bowling
B Kumar 8.4 - 0 - 41 - 3
U Yadav 8 - 0 - 52 - 1
H Singh 10 - 0 - 51 - 2
A Patel 10 - 0 - 39 - 3
M Sharma 5 - 0 - 21 - 1
S Raina 2 - 0 - 18 - 0