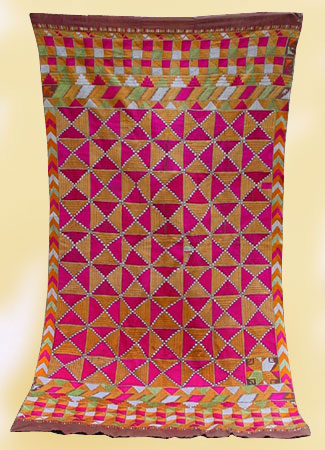 Phulkari, a traditional embroidery art is well known for its colorful designs and colors. The dresses made by phulkari are called 'Phulkaris' and are worn by punjabi women on special occasions and ceremonies. The word 'Phulkari' is made of two words "Phul" and "kari", where "Phul" means flower and "kari" means technique, thus forming technique of making flowers.
The art is quite old and in olden days majority of women were expert in this art in villages and was purely a domestic art. Punjabi women were very creative in designs with adding various colors. Although in morden days now not many women or girls take interest in learning this art, but still admire to have 'Phulkaris' for special events.
The areas like Hazara and Chakwal were known to be famous of Phulkaris'. The main characteristics of Phulkari embroidery are use of darn stitch on the wrong side of coarse cotton cloth with coloured silken thread. Punjabi women created innumerable alluring and interesting designs and patterns by their skilful manipulation of the darn stitch. The base khaddar cloth used in Western Punjab is finer from those of Central Punjab. Black/blue are not preferred in Western Punjab, whereas white is not used in East Punjab. In West Punjab, 2 or 3 pieces of cloth are first folded and joined together. In East Punjab, they are joined together first and then embroidered.
Many women also stiched ornamnets as part of the design and even a special thread made of gold was used along side silk threads.The creative ability of women scaped wonderful and sometimes complex patterns along side the colorful flowers.