What we rebuilt has gone again

Anil Punjabi relives the days following the '03 attacks and the futility of their resilience.
When he heard the blast just minutes before 7 pm on Wednesday, Anil Punjabi's heart just sank. Eight years ago, he'd heard a similar blast, only much closer. In 2003, it was a taxi parked right outside his jewellery showroom - Tahilram Tirthdas - opposite Mumbadevi temple. The damage to the building - Navinidhan Bhawan - was so extensive that it had to be completely demolished and rebuilt, the cost shared amongst the occupants.
"We were told the government and BMC would offer some concessions, but not only did we end up doing it ourselves, it seems pointless now to recount the trouble we had maneouvering through all the permissions required and procedures involved," says Anil.
On Wednesday, when he saw people running outside his shop, in that instant he knew that the horror of 2003 had revisited Zaveri Bazar. After a few moments frozen in fear, Anil, his elder and several of their friends and neighbours, all owners of jewellery shops started rushing towards Khau Galli.
"No action is taken against hawkers. They dump garbage, use gas cylinders on the streets. The government should declare this a no-hawker and no-parking zone. There should be gates to regulate control of people entering and leaving this area. Just a day after the blasts, hundreds of motorcycles are parked here again. Who knows which one has a bomb hidden?" says Ashok.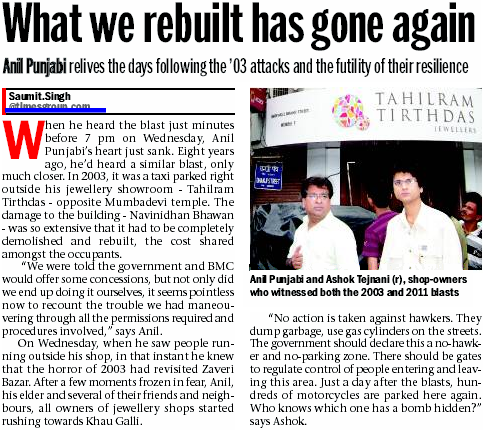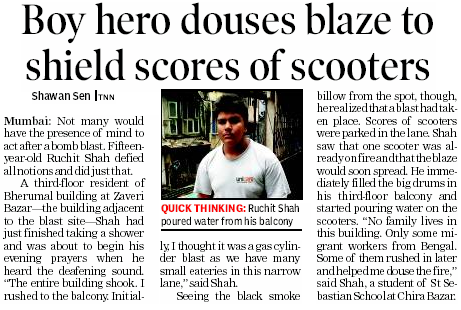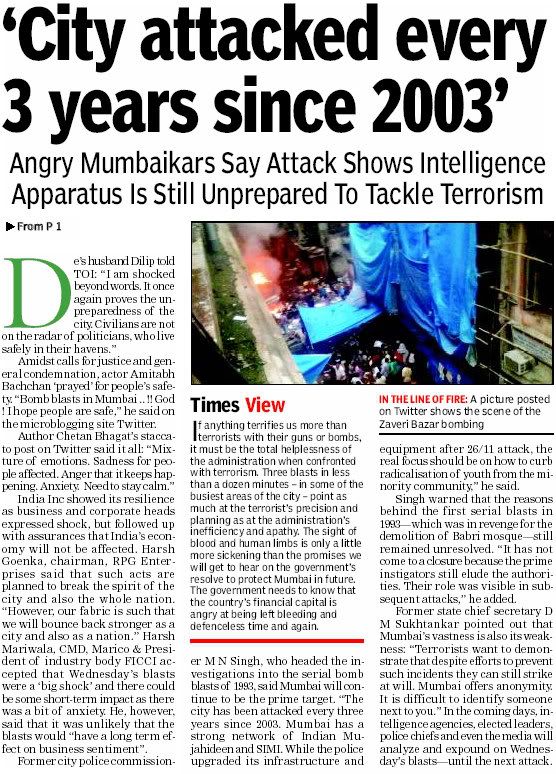 Diamonds worth 25 crore went flying in the air
Mumbai:Amidst the deafening burst of shrapnel that went up when a bomb detonated at Opera House on Wednesday evening, there was something that rained down: diamonds packed in tiny butter paper packets and hidden in secret vest pockets. It was that time of the day when most traders had wrapped up work and were sipping hot tea and chewing mawa before heading to the safety vaults; others had smoothly lined up their gems on red velvet and were taking the last count.
The huge explosion that ripped through the narrow Khau Galli at Opera House has left the diamond community unnerved and singed in more ways than one. Unbelievable as it may seem to the uninitiated, many merchants carry their diamonds on their person—and the blast led to their losing stones worth crores of rupees. "Most of us carry diamonds in our pockets," says Bharat V Shah, secretary of the Mumbai Diamond Merchants' Association. "This is how we trade, sometimes under the peepal tree, sometimes at the tea stall. Many people would have lost their diamonds."

Police return diamonds to traders' association

16july
The police have returned around 20-25 pieces of diamonds they recovered from the blast site to The Mumbai Diamond Merchants' Association. Association members have been asked to file their claims with a detailed description of the lost stones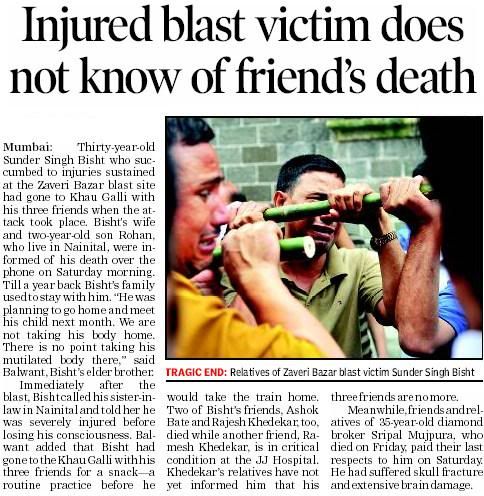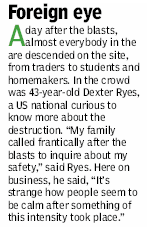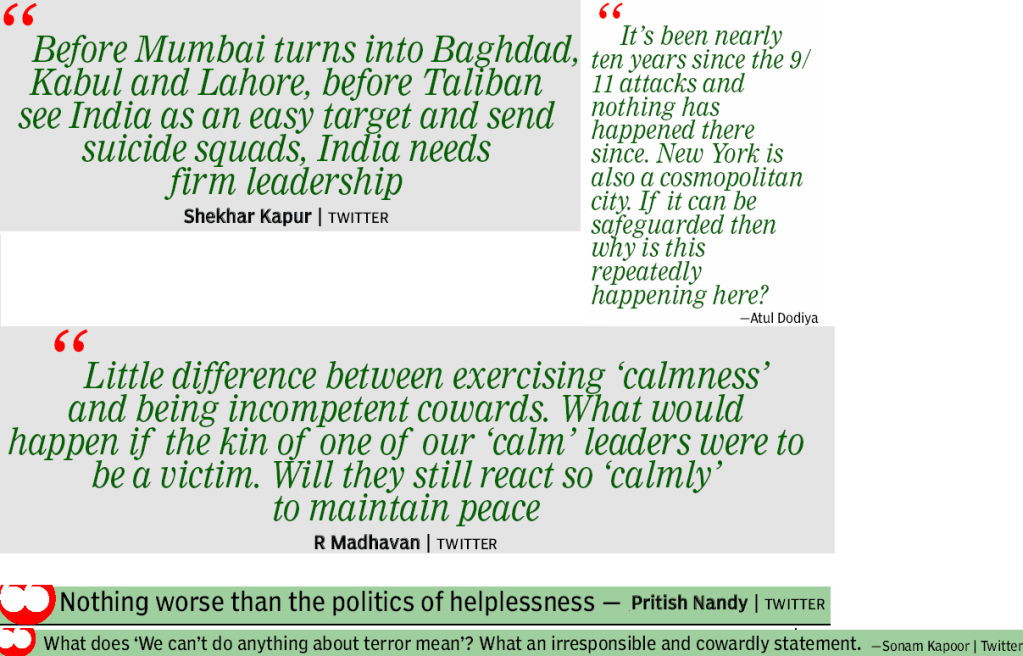 Sentiments like 'hang Kasab' to 'Mumbai should be called BOMBbay' were expressed on the internet. Author Shobhaa De tweeted: "How many intelligence failures do we need? What 'intelligence'? Salaam Mumbaikars! Once again we are left to help ourselves."
--------------------------------
Some stupids comments..
Terrorists had the advantage of surprise" -
Manmohan Singh
-- Oh puppet PM ,,, nah they will inform u first that we will blast in so and so place..
"Not an intelligence failure'-
P Chidambaram
-- Chidu next bomb blast should be happen under urs dhoti then lets see whoz failure it will be then ?
"We stop 99 per cent of the attacks. But one per cent of attacks might get through and that is what I am saying.". .Even americans cant stop blast in iraq and afghanistan -
Rahul Gandhi
--Gosh this college drop out raul vinci/rahul gandi said something first time.. but muh khola toh bakwass hi bak di.. what "stop 99% attacks" he talking about ? did he forgot before mumbai blast just a week back there was a train blast in assam too plus the tracks was blow away by huji & ulfa militants & those naxals attacks ! which lead to the crash of the train in which dozens off people died.. Compareing india with iraq and Afghanistan..abe gadhe.. those country have war like situation...Dumb useless guy.
And last but not the least---
"India is better than Pakistan where blasts take place every day, every week."-
Digvijay Singh aka doggy diggy
-- aaahaa here comes the dogy diigy the guru of rahul gandi.This guy have a big filthy mouth..jab bhi khola gutter hi bakta.
i think his Z+security shud be removed nd then he wil xperience dat makin statements with security is as easy as washing his shit,butt wen it comes to him without security dis dog wud nt even cum out of his house..........bloody DOG!!!!
biggest MOFO, ever seen in history of Indian politics! his frustration is evident after losing repeatedly from the state he once ruled... Madhya pradesh.