lo g kar lo gall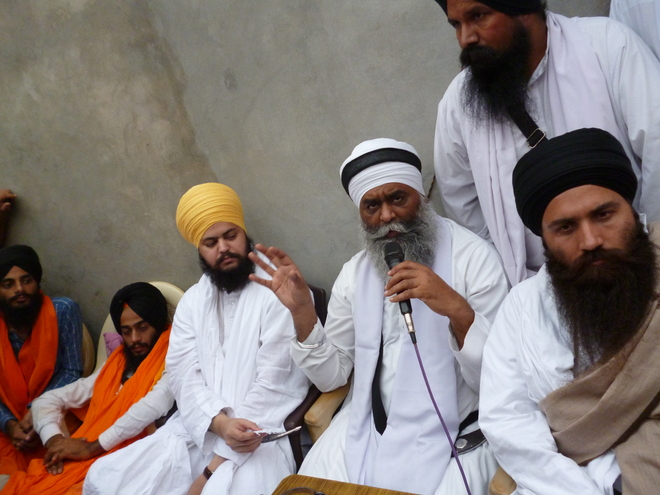 A day after the release of Rupinder Singh and his brother Jaswinder Singh, a number of Sikh religious leaders and supporters today visited their house at Punjgrain Khurd village in Moga.
The brothers accused the Moga and Faridkot police of using third degree torture on them to force them to admit to the offence of desecrating a "bir".
Rupinder Singh alleged they were arrested on early hours on October 17. "The Mehna police in Moga and CIA staff in Faridkot kept us in illegal custody for three days and applied cruel methods of torture on us before showing our arrest on October 20," he alleged.
Sikh leaders Panthpreet Singh and Baljit Singh Daduwal demanded strict legal action against the guilty police officers.
Sukhwinder Singh Mann, SSP, Faridkot, denied having tortured the brothers and keeping them in illegal custody. "The interrogation was limited only to their questioning which was based on the telephone conversation Rupinder had with some persons abroad," he said.
The leaders said the demand for conducting lie detector test on "innocent brothers" was ridiculous.
'Won't allow Jathedar to address sangat'
Hoshiarpur: The Dal Khalsa and its affiliated group SAD Panch Pardhani have resolved not to allow Jathedar Giani Gurbachan Singh to address the Sikh Sangat from Akal Takht on Bandi Chhor Divas (Diwali). Leaders of both hardliner groups have asked the SGPC to either dismiss the jathedar or face opposition from the community. Dal Khalsa head HS Dhami and Kulbeer Barapind (pic) alleged the pardoning drama enacted by the Badals had pushed the community into deep crisis. He urged the sangat to reach the Golden Temple in large numbers on Bandi Chhor Divas, but refrain from taking law in their hands.