AS A MINORITY, this Sikh sergeant in the British police force faced many challenges on the job. But he stuck with it and helped to create the British Sikh Police Association to improve chances for turbaned officers to take on roles, which require officers to wear helmets, such as firearms and public order.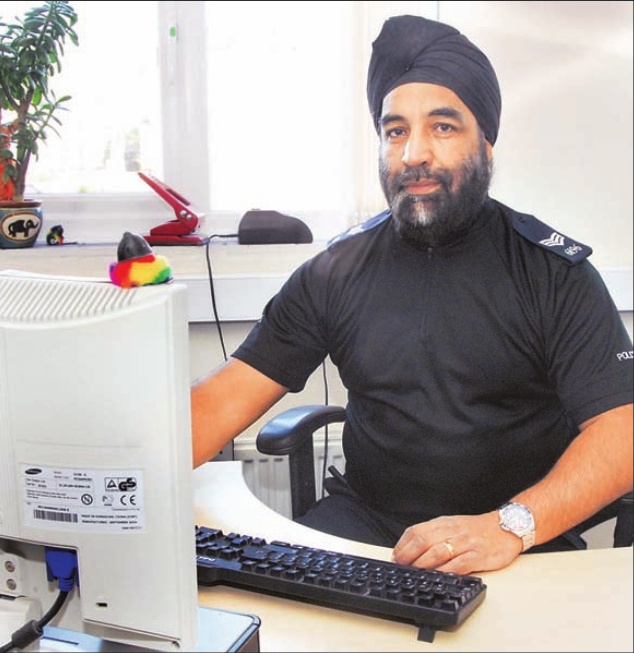 Being a Sikh within the British police force in the 1980s was no easy fate, as Sergeant Kashmira Mann discovered when he became the third turbaned officer to join the Metropolitan Police Service.
From being called names by fellow officers and having colleagues abandon him on the beat, the Slough man was one of the few ethnic minorities in the force at the time and as a result, bore the brunt of its racism.
Sgt Mann, 54, now works for Thames Valley Police in the reactive team, which responds to 999 (emergency) calls and is based just outside of London in Slough, Berkshire. Sgt Mann, who hails from a traditional farming family in Punjab, says, "It wasn't uncommon for my colleagues to call me `rag head' or `towel head' to my face and in front of other officers. They wouldn't think twice about it and it wasn't something you challenged as that was just the way it was and if you did report it, you would just get grief."
Sometimes the racism would go further than the name-calling and Sgt Mann, who was a rookie police constable (PC) at the time, saw it become obstructive as he tried to do his job.
He recalls being assigned to do a foot patrol in an area of Notting Hill, All Saints Road, which was known as a `nogo' area in the '80s.
Sgt Mann, who moved to England in 1965 with his parents from Hoshiarpur, Punjab, aged just eight, says, "We had to go in pairs because the area was so dangerous, however, one of the officers I was occasionally paired up with refused to walk alongside me. He would walk on the other side of the road. It was ridiculous, because he put both his and my safety on the line."
Sgt Mann, despite his love for the job, soon found himself writing his resignation letter after run-ins with a senior officer who constantly questioned his arrests. "He didn't like it when I arrested a white person and constantly undermined me. After taking it to my seniors and being given a verbal telling off for daring to question a sergeant, I thought I had no choice but to resign as I could no longer do my job," he recalls. However, when Sgt Mann came into work with his resignation letter in hand he discovered that the sergeant had been arrested for drunk driving and had been sacked.
The father-of-three, who helped to establish the British Sikh Police Association in 2009, which he is the chairman of, decided to continue with his job and has today completed over 24 years of service.
"I very nearly did give it up, but I'm really glad I didn't. I'm a people's person; I love my job and interacting with people. It is more satisfying than any desk job could ever be," says Mann, who graduated from North London University with a BA in electronics engineering. He adds, "The police force has changed so much since I first joined and what I've learnt is that you have to be in it to change it."
After working as a PC in Heathrow, Southall and Notting Hill, Sgt Mann was promoted to sergeant in Wandsworth (South London) in 1999.
Mann is now, within his role of chairman of the association, pushing to improve chances for turbaned officers to take on roles, which require officers to wear helmets, such as firearms and public order. "We want to see more research done on finding alternatives for these officers -it could be ballistic turbans or a larger spaceman type helmet, which would cover the turban," he says. "A lot of lip service has been paid to accommodating different religions in the force with little effort actually put into trying to find ways to do that. The force may have changed since the '80s, but there are still a lot of underlying issues. If you look at the makeup of the force in Reading and Slough, it doesn't come close to reflecting the communities it represents."
Source:
Inderdeep Bains