Yyyyymmmmm "Karhi Pakora"
Ingredients
For pakoras:
basin 1 1/2 cups
red chillis 1 tsp
salt 1 tsp
corriander seeds 1 tsp
chat masala 1 tsp
dried crused methi leaves 2 pinchs
water enough to make a semi thick paste
For curry:
baisin 6 tbsp
water 1.15 litre
curd 1/2 kg
spring onions 3
curry pattas 12
ginger 1/2 tsp
garlic 5 cloves
green chillies 4
red chillies pwd 2 1/2 tsp
salt 2 tsp or as per taste
red chillies whole pods 4
cooked cummin pwder 1 tsp
cummin 1tsp (for garnish)
oil 1/2 cup (for garnish)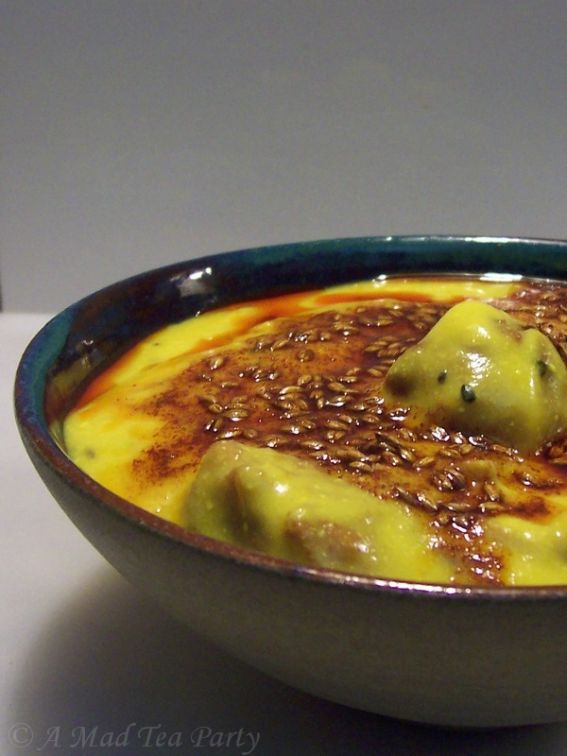 Mix all ingredients
well with enough amount of water to make a semi thick paste.Heat oil enough for deep frying in a deep frying pan. Put the paste in little amounts in the well heated oil with the help of a tbsp. Fry pakoras on medium heat. Mix baisin, water, curd, 6 curry pattas,spring onions,green chillies,garlic,ginger,cummin powder and red
chillies pwd in aheavy based pot and cook on low heat untill it becomes half in quantity.The curry will turn a little thick.U can add water if U want to make it thin.Add the prepared pakoras and salt in the curry.
For Tempering ( Bikhar)
Heat oil in a frying pan.Put cummins,red chilly pods and curry patta.Fry well and put in the prepared curry.Your curry is ready to serve.Eat with boiled rice or as it is.You will love the delicious taste.