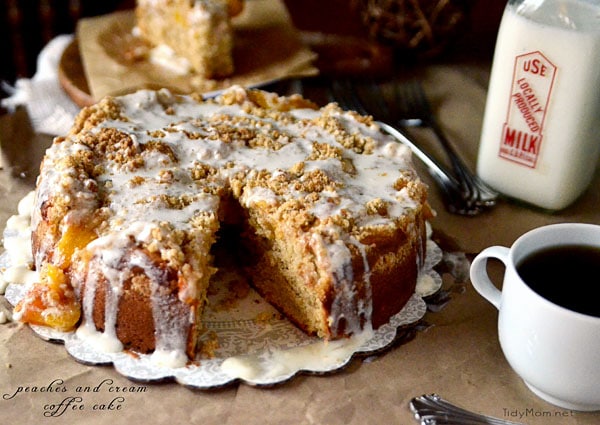 Peaches and Cream Coffee Cake
Prep Time: 15 minutes
Cook Time: 60 minutes

Yield: 10-12 servings


Ingredients
2-1/2 cups all-purpose flour
1 c. brown sugar, packed
3/4 cup butter, softened
2 eggs, separated
1 cups heavy whipping cream (or milk)
1/2 tsp salt
1 tsp. cinnamon
1/2 tsp nutmeg
2-1/4 tsp baking powder
1 can (21 oz.) Peach Pie Filling (I like Luck Leaf)
for icing
1 Tbsp. butter
1 tsp. vanilla
3/4 cup powdered sugar
3-5 Tbsp. heavy whipping cream (or milk)
Instructions
Preheat oven to 350°
Mix flour, sugar, cinnamon, nutmeg and butter (will be crumbly). Take out one cup of this and save for topping.
Mix egg yolks with cream and add to remainder of flour mixture. Add salt and baking powder and mix until very smooth.
Gently fold in egg whites.
Pour into greased pan
Put pie filling evenly over top of batter. Sprinkle with crumb mixture.
Bake for 55-65 minutes. Until lightly brown on top.
Allow to cool for five minutes then remove from pan.
Drizzle with vanilla icing.
For the Icing:
Melt butter in microwave, then add vanilla.
Slowly stir in powdered sugar. (will be clumpy)
Add 3 tablespoons of cream (or milk) stir until creamy and smooth. Add more cream 1 tablespoon at a time until right consistency (runny enough to drizzle over cake).
Notes
you could also bake this in a greased 9x13 glass pan at 375° for 45 minutes.