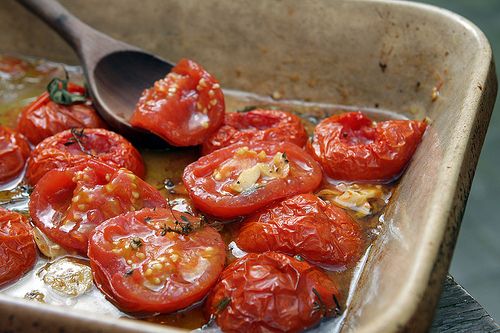 Oven-Roasted Tomatoes
One pound (450g)
This recipe can easily be increased. The important thing is to use a baking dish or pan big enough so that they tomatoes are not too crowded. You want room between them for the moisture to escape, which concentrates the tomato flavor. If you use a metal pan, make sure it's not aluminum or made of another material that might react with the acidic fruits.
And it's up to you if you want to cut out the stems before roasting or not. You can see here I did some, but not the others (for whatever reason was running through my mind at the time.) The herbs can vary as well; basil, oregano, or marjoram all pair nicely with tomatoes.
2 tablespoons olive oil
1 clove garlic, peeled and thinly sliced
8-10 branches of fresh thyme
a few spring of fresh rosemary
salt and freshly cracked pepper
1 pound (450g) tomatoes, (8 small or 4 medium-sized)
1. Preheat the oven to 325ºF (165ºC.)
2. Pour the olive oil into a shallow baking dish or pan and add the garlic, thyme, rosemary, and salt and pepper.
3. Cut the tomatoes in half horizontally, then use a sharp knife to remove the stems, if you wish. Toss the tomatoes with the oil and seasonings, then lay them cut side down in the dish.
4. Bake for two hours, or until the tomatoes are completely softened and wilted, and start to wrinkle. Depending on the tomatoes, they may take longer to cook.
Storage: The tomatoes will keep for about five days in the refrigerator. They can also be frozen for up to six months.