Low Fat Grilled Chicken Salad Recipe
Boneless, skinless chicken breast - 400g
Red potatoes - 300g (cut in half)
Green beans - 200g
Orange marmalade - 2 tbsps
Leaf lettuce - 3 cups (torn)
Oranges - 2 (peeled and sectioned)
Orange juice - 1/4 cup
Salt and black pepper - add to taste
Orange zest - 1/2 teaspoon
Diced ginger - 1/2 teaspoon
Red wine vinegar - 1 tbsp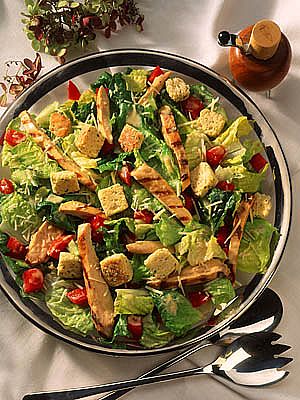 •Mix orange juice, marmalade, salt, pepper, orange peel, and ginger. Take about 1/4 cup and brush on to the chicken. Then grill until both sides browned. Cut the chicken into slices.
•Boil the potatoes for 8 to 10 minutes until tender. Also boil the green beans for 2 to 3 minutes until cooked. Then drain the water.
•In a large salad bowl, mix the chicken, orange slices, potatoes and green beans. Toss evenly with the orange sauce mixture.