20-Jun-2012
Candy Bar Cheesecake Recipe
---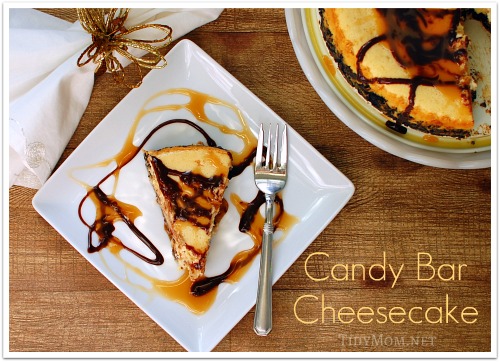 Candy Bar Cheesecake Recipe
Ingredients
1-1/2 cups crushed chocolate wafer cookies (about 25 cookies)
1/3 cup sugar
1/3 cup butter, melted
2 packages (8 oz each) cream cheese, softened
1 can (14 oz) sweetened condensed milk (not evaporated)
3 eggs
2 teaspoons vanilla
20 Twix bars (fun-size) candy (or your favorite candy bar), unwrapped, cut into quarters (about 2 cups)
Instructions
Heat oven to 300°F. Spray 9-inch spring-form pan with cooking spray. To minimize cracking, place shallow pan half full of hot water on lower oven rack.
In medium bowl, mix cookie crumbs, sugar and butter. Press into bottom of springform pan.
Open candy bars and cut each one into 3-4 pieces, set aside.
In large bowl, beat cream cheese and sweetened condensed milk with electric mixer until smooth. Beat in eggs, one at a time, just until blended. Stir in vanilla and candy bars. Pour over crust.
Bake 40 to 50 minutes or until edge of cheesecake is set at least 2 inches from edge of pan but center of cheesecake still jiggles slightly when moved. Run small metal spatula around edge of pan to loosen cheesecake. Turn oven off; open door at least 4 inches. Let cheesecake remain in oven 30 minutes. Cool in pan on cooling rack 30 minutes. Refrigerate at least 6 hours or overnight.
Just before serving, run small metal spatula around edge of pan; carefully remove side of pan. Drizzle with Chocolate Syrup and Caramel Syrup or topping. Cover and refrigerate any remaining cheesecake.