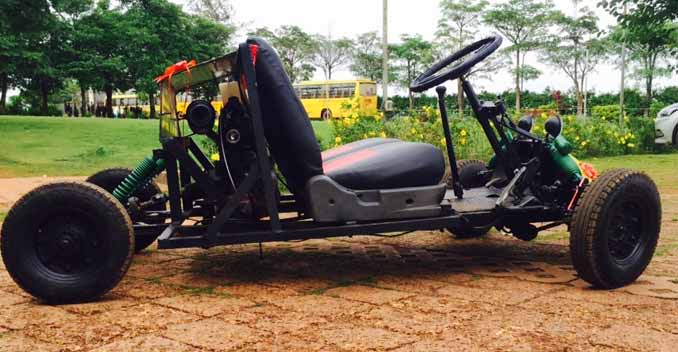 Every now and then we hear car manufacturers tell us about the research and development that they do when it comes to making cars according to their customer's needs. But an engineering college in Mangaluru, thought long and hard, put together their travel experiences and then decided to make a car for the common man.
A car that will not only be affordable but also be a substitute for those wanting to upgrade from a bike; and that's what they strived at. According to Professor Rounaq Ahmed, "There's sunshine for 6 months here in Mangaluru and it rains the other 6; and most of the people here travel on bikes, which during the rains can be extremely dangerous, which is why we came out with this idea."
The 'we' includes some students pursuing Mechanical Engineering and professors who guided in their pursuit to make a car for the common man. Well, the idea was a simple one; a tried and tested one at that; taking the engine from a bike and making a car of it. We've seen Volkswagen do it and though a concept, it worked well. The idea, therefore is not new but the students and the professors of the Bearys Institute of Technology have made a car by doing just that. They took a 150cc engine from a Bajaj Pulsar and took some additional spare parts to build a car that would be ideal for a place like Mangaluru.
"We wanted to build a car for the common man and we managed to do it with the help of the students. The 150cc, 4-stroke bike engine has been used in this car which can carry two people easily. Since it is a single cylinder air cooled engine this vehicle does not require radiator or cooling systems," said Prof. Ahmed.
The total kerb weight of the car is 280Kgs and this is because of the extensive use of aluminium. The weight has a drastic change on the way it performs. The car can hit a top speed of 80Km/h and return a fuel economy of 32Km/l. We asked about the fuel tank capacity and were told that the tank can be designed to whatever capacity is needed. The car has been tested off-road as well as on road on the outskirts of Mangaluru city, and the results have been promising.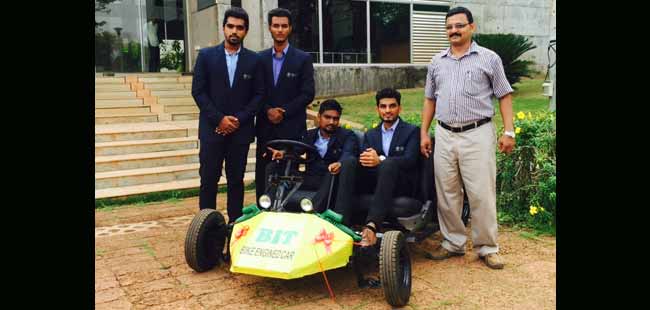 Well, the fact remains that the design of the car is a pretty rudimentary. However, let us not forget that this is merely a prototype and improvements will be made. They've even made a cover for it for when it rains. But making it a proper car will mean more investment. The car was made with a budget of just Rs. 50,000, but with all-new components the single car price may go up to Rs. 1 lakh. However, mass production may also reduce the cost further.