23-Apr-2009
CHOPPERS-You Wld Die For
---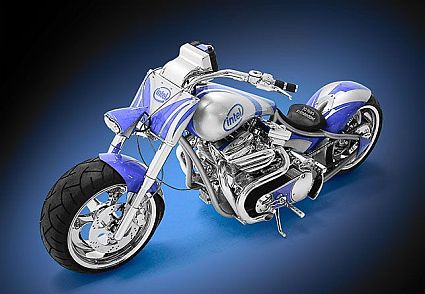 After three decades of silicon innovations Intel wants to celebrate, but it is doing it in the weirdest way, the company is getting together with the orange county choppers for creating a custom made computer based chopper. Confused that what a company which is known for its bond worthy gadgetry is going to do collaborating with orange county choppers, well, this is because of the company's desire to demonstrate the performance potential of embedded technology and since motor bike is the most mobile, exposed to rugged operating conditions it offers a great opportunity to show case it and also demonstrate its ultra low voltage Intel processor.
Intel joined hands with OCC to make a themed bike for the debut of its Xeon processor. This custom made bike has 250-hp with dual V-twin engines making it a fearsome beast but it has been tamed with a computer and a fully embedded quad-core processor.

Black diamond advance technology came in with a demand for a computer that will take all the hardships of the bike and still be handy and supple and is powerful enough to power all the systems of the bike. The computer is a switch back P.C, developed by black diamond advanced technology, which provides flexibility and connectivity of commercially available UMPCs, simultaneously making it according to the demand of users working in a ruthless environment.
OCC founder Paul Teutul cited:
We have made the most powerful and technologically advanced bike we've ever made .This may be the world's fully computerized chopper.
It is having no ignition key; instead it has finger print recognition for ignition. The motorcycle is uploaded with a 3-pound, 5.6 inches, LCD screen which recognizes finger print deactivate security functions and allows access to start ignition button .The LCD screen is fully viewable in sunlight with a digital speedometer, tachometer, voltage meter, battery voltage gauges and turn signal indicators .

It displays the rear images with the rear mounted cameras making rear view mirrors obsolete and in addition it has electronically controlled hydraulic kickstand, making everything in the bike integrated with a computing system.
This digital dashboard can go from the simple functionalities of driving to a fully loaded PC with Bluetooth, GPS, USB drives, with a QWERTY keyboard and all of the windows applications. This computerized contraction is detachable as per the convenience and also for the security reasons. The battery for its operation is charged while the bike is on the move and once charged it gives 5hrs running time and it also has a wall-charge unit .


Intel takes cruiser style riding to a new sphere into an exhilarating new level which is out of place here. It gives the feel of a fighter plain flying below the radar.