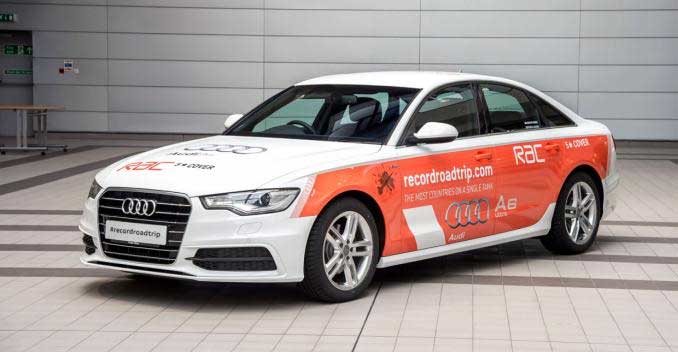 Audi and RAC will attempt to set a new Guinness World Record for traveling to the most countries on a single tank of fuel. Masterminded by RAC, the route has been carefully planned to avoid the economy-sapping effects of congested towns and cities, motorways and mountainous regions.2
The car which will be used for this record attempt is an A6, which will be powered by a 2.0-litre diesel engine. The 2.0 TDI ultra engine produces 187bhp and is in no way modified. It comes with a 73-litre fuel tank and except for the body wrap it wears; it will be the same as any other A6 on the road.
Motoring journalist Andrew Frankel and racing driver Rebecca Jackson will be pair to embark on this record making road trip. As ferry or rail Channel crossings would invalidate the title attempt the Record Road Trip will begin in Maastricht in the Netherlands, and will continue through Belgium, Luxembourg, France, Switzerland, Lichtenstein, Austria, Germany and Italy towards the Balkans covering close to 1600 kms on a single tank of fuel.