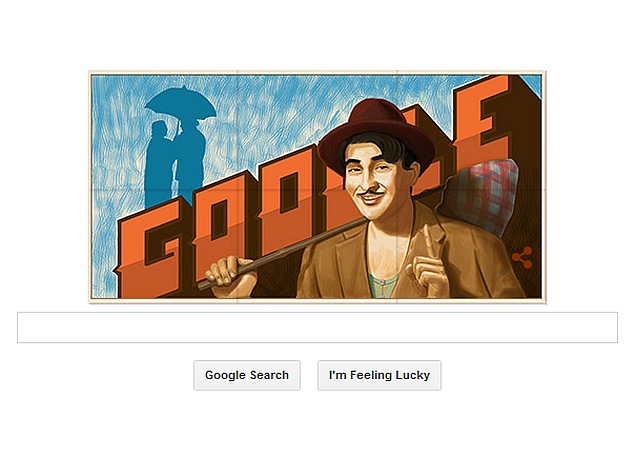 Raj Kapoor's 90th birthday on Sunday is being commemorated with a Google doodle. Raj Kapoor movies unarguably shaped Indian cinema, and have also played a large part in influencing Indian society.
Sunday's Google doodle is a collage of two scenes from one of Raj Kapoor movies, 1955's Shree 420, where he portrays Raj - a Charlie Chaplin-styled character the actor had previously essayed in 1951's Awaara - a small-town orphan who comes to Bombay (now Mumbai) hoping to make it big.
The Google logo separates the two song sequences from the Raj Kapoor movie, Mera Joota Hai Japani, and Pyar Hua Iqrar Hua. The first Shree 420 song sees the tramp-like figure of Raj on the road on his way to the big city - a song that for its patriotic lyrics became an anthem of sorts in those post-Independence years.
Google depicts the second scene from the Raj Kapoor movie, Shree 420, with Raj romancing Vidya in the rain. Vidya, played by Nargis, is a virtuous character helps Raj find his way on the treacherous big city roads of success.
Raj Kapoor, apart from being one of the iconic actors of Bollywood, was a noted director and producer as well. Born on December 14, 1924, he was the son of another legend of Indian cinema, Prithviraj Kapoor. He died in 1988 at the age of 63.
Sunday's Google doodle collaging Raj Kapoor movies on the star's 90th birth anniversary is only visible in India.