22-Mar-2012
Nvidia launches the GTX 680: World's fastest graphics card!
---
Nvidia has just unleashed their answer to AMD's 'Tahiti' HD 7970. Kepler is finally among us and the GTX 680 will be the first card to hit retail shelves, soon. The new card is based on Nvidia's all new SMX shader architecture. Along with faster performance and more power efficiency, the new GTX 600 series will also bring with it a host of new features. Nvidia's board partners are all set to launch these new cards and if everything goes as planned, then we should have a review up for you guys by Saturday. Details on the pricing and availability are still being worked out right now, but we'll update you on that as soon as we get a confirmation. We just got the official press release from Nvidia and the expected pricing is said to be $499 (Rs.24,500). Adding the taxes and duties, one can expect a street price of Rs.30,000 (approx.). If this is true, then it's going to be a lot cheaper than the HD 7970 and if it performs as well as Nvidia says it does, it's going to make a killing!
It's here!

Looking at the specifications alone, we see that the GTX 680 packs in almost three times the shader units, as compared to the GTX 580. Despite this, the TDP remains at just 195W, so you only need two 6-pin power connectors to power this card. The card is based on the 28nm fabrication process and will support DX11.1, which will be featured in Windows 8. The GTX 680 is the first Nvidia card to support 3DVision surround, up to 4 monitors, from a single card. New features exclusive to the card include GPU Boost.

Looks formidable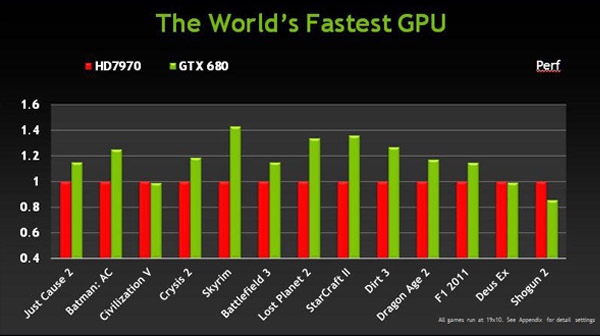 Compare with ATi

This dynamically gives you a boost on frame rates, if the scene being rendered demands this, but at the same time, does not go beyond the set TDP. They've also introduced some new Anti-Aliasing modes like FXAA and TXAA which helps reduce jaggies without a major blow to the framerates. Adaptive VSync is another new addition that automatically enables or disables VSync in a game depending on the framerate. All this sounds very exciting and after a painfully long wait, we can finally put this card to the test against AMD's HD 7970. Nvidia is already claiming it to be the fastest card in the world, but we'll know for sure by tomorrow once we put it to the test, so stay tuned. Here's a quick demo video showcasing the new features that had leaked earlier today:

Key Specs

Graphic Processing Clusters: 4
CUDA Cores: 1536
Base Clock: 1006 MHz
Boost Clock: 1056 Mhz
Memory Clock (Data Rate): 6008 MHz
L2 Cache: 512KB
Video Memory: 2GB GDDR5
Memory Interface: 256-bit
Architecture: 28nm
Recommended Power Supply: 550-watt