29-Aug-2013
Nokia Lumia 1520 first photo leaks
---
Nokia Lumia 1520 first photo leaks, sized up next to Lumia 1020
Nokia Lumia 1520, previously known as Bandit, is rumored to feature a 6" 1080p display and run on the latest Snapdragon 800 chipset. Other alleged specs include a 20MP camera on the back, wireless charging support, a polycarbonate body and Windows Phone 8 GDR3.
Today we get to see what is allegedly a live photo of the phablet. How we know it's indeed the 6" Lumia 1520? Well, the phones next to it is the recently launched Lumia 1020 and it's easily dwarfed by the Lumia 1520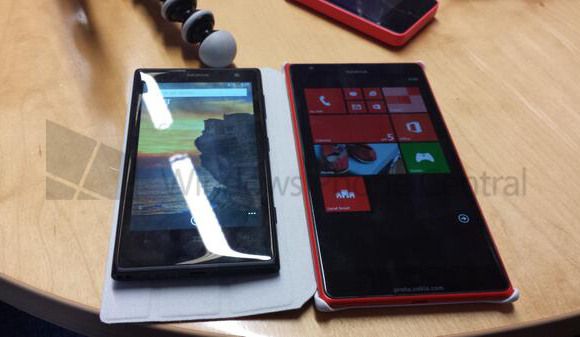 Last month we saw a picture of the front glass of a 6" Lumia phablet and it looks the Lumia 1520 is using the same panel. So we guess the Lumia 1520 existence is pretty certain at this point and all we have to wait for is for Nokia to announce it officially.
Yesterday's Nokia press event in Moscow turned out to be about the Nokia 515 not the Lumia 1520. We guess the official premiere will happen about the same time all other phablets are going to war - sometime in September.
Thank you, gmfady, for the tip!