MSI Wind U110 Eco Netbook:
The new netbook is MSI's first to use the Poulsbo-era 1.6GHz Atom Z530 and uses the more power-efficient chipset to extend battery life to a full 9 hours in peak conditions. Despite the Intel core, the model also unusually depends on AMD's ATI Mobility Radeon HD 3200 integrated chipset to give it faster graphics than Intel's current chipsets can offer.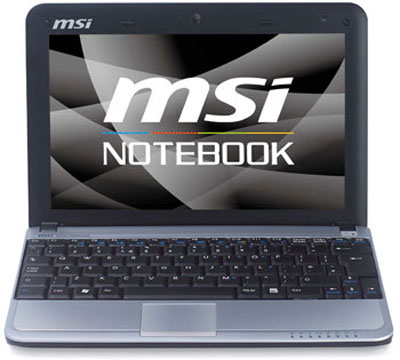 The system comes with the by now standard 10-inch display, 1GB of RAM and 160GB hard drive common to netbooks, though again MSI takes a different approach and will give the option of either Windows XP Home or Vista Home Basic, either a 1.3- or 2-megapixel webcam, and Bluetooth. Networking is handled through 802.11n Wi-Fi and gigabit Ethernet.