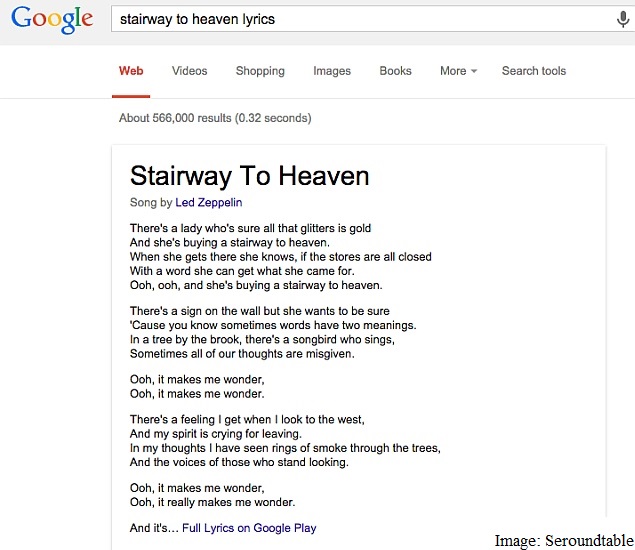 Google Search for the Web has reportedly started displaying song lyrics right at the top of its search results pages, powered by Google Play.
The search giant hasn't made any official announcement about the new addition to Google Search for the Web, and the feature could either be in a testing phase or in the rollout phase, as it is not yet visible in India.
First spotted by the Serountable (via Techcrunch), Google Search is seen now displaying detailed music lyrics at the top of its search results pages when users input a query in this format: [song name] [lyrics]. Also seen is a link to the 'Full Lyrics on Google Play' alongside the truncated text, taking users to the complete lyrics on the Google Play platform. The lyrics results page doesn't seem to be showing for all songs however.
"For example, search for [stairway to heaven lyrics] or other examples, and often, Google will show in their top answer box, the lyrics, linked to Google Play for even a larger view of those lyrics," noted the blog.
Earlier, Microsoft had introduced the same feature for its voice-based virtual assistant Cortana and Bing Search. Notably, both of them are limited to the US as of now.
Last week, Google had started rolling out automated enhancements for Google+ videos. The company said with the Auto Enhance feature, users will be able to enhance the lighting, colour, and stability of the video, while speech stabilisation is 'coming soon'.
With the Auto Enhance feature turned on, Google+ will automatically suggest enhancements for a video, by analysing its picture and audio quality. The desktop/ Web users will see a banner asking whether they would like to preview enhancements, which will be previewed in an instant side-by-side comparison.