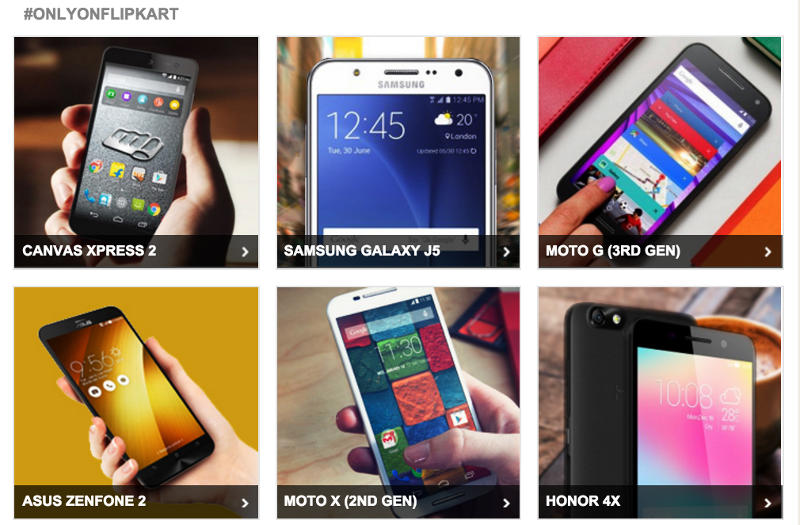 Flipkart announced Wednesday its partnership with Spice Hotspot stores, where its 'exclusive' portfolio of phones will be showcased offline, on its retail store network. Under its new assisted e-commerce model, customers can try and buy Flipkart's range of smartphones at selected Spice Hotspot outlets, the company said.
The store staff will assist them to place their order on the Flipkart app and customers can take the delivery of the phones at the store or at their home.
A quick analysis of the six smartphones listed on the OnlyOnFlipkart page reveals that most of the phones are not exclusive to Flipkart any more. The Galaxy J5 is available on Amazon India, and Motorola's phones are not exclusive to Flipkart since September, The Asus ZenFone 2 is not longer an online exclusive, while the Nexus 6 is available on the Google Play store. That leaves the Micromax Canvas Xpress 2, and the two Huawei phones, the Honor 4X and Honor Holly.
Flipkart will also be unable to leverage some its online exclusives at offline stores, considering brands like Asus and Samsung have their own priority stores.
According to Flipkart, the association is aimed at reaching out to a larger target audience, especially the not-so-tech-savvy customers as they can now get a first-hand experience of these exclusive products and place their order conveniently at a store near them.
In an emailed statement, Sandeep Karwa, Director Retail, Flipkart said that this initiative will become a big customer conversion tool for Flipkart's smartphone category, empowering customers from from Tier-3 and Tier-4 towns to shop online.
Spice Hotspot has over 300 retail stores across key metro cities in India. A company spokesperson was unable to state at time of writing how many of them will showcase Flipkart's exclusive range of phones.