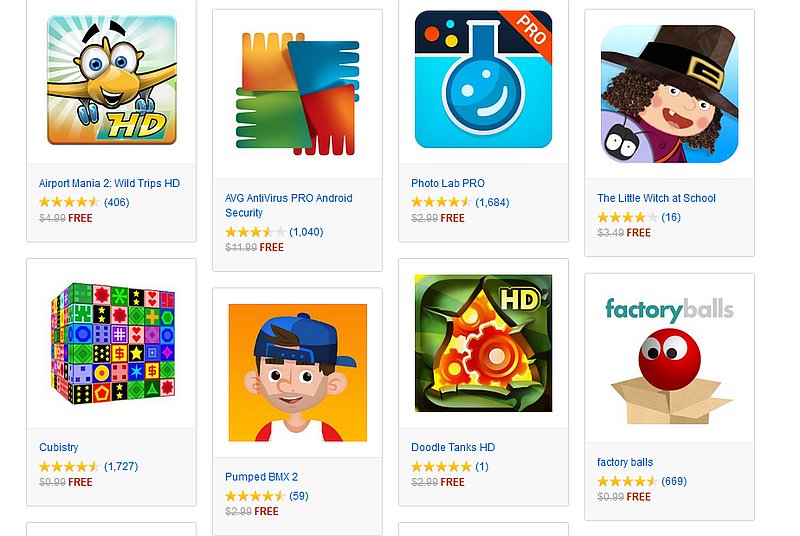 Amazon, after shuttering its Free App of the Day and its associated monthly bundle with the introduction of the Amazon Underground platform, is now offering paid apps worth over $70 for free. The offer comes as a part of the company's new 'Scary Good Deals' limited-time offer for the US-based Halloween festival. The offer would expire on Saturday 11:59pm PDT (Sunday 12:29pm IST).
With a rough calculation of the list prices, we see the 33 paid apps and games being offered are worth approximately $97 (roughly Rs. 6,300) on Amazon Appstore for Android.
Apps available with the offer include Lego Star Wars Microfighters; Runtastic PRO GPS Running, Walking and Fitness Tracker; AVG AntiVirus PRO Android Security; Airport Mania: First Flight HD, and more.
Notably, users will need to sideload the Amazon Appstore for Android to be able to download and install the apps on their Android device. You can follow the instructions on this page to install Amazon Appstore on your Android device. After installing the app, you will need to visit this page on your Android device, with the install from 'Unknown sources' options turned on from Security settings. Remember to turn this option off for your own safety after you're done installing the apps you want.
Alternatively, Amazon Appstore for Android users can visit the page on their desktop browser while logged into their Amazon account, and add the apps they want to their library to download later.
Here is a complete list of the paid apps that are available for free with Amazon's Scary Good Deals offer.
1. Rotate It! ($0.99)
2. The Little Witch at School ($3.49)
3. AVG AntiVirus PRO Android Security ($11.99)
4. Gamebooks: Read and Learn English (Premium) ($10.99)
5. Photo Lab PRO ($2.99)
6. Runtastic PRO GPS Running, Walking & Fitness Tracker ($4.99)
7. Toca Pet Doctor ($2.99)
8. Scribblenauts Remix ($0.99)
9. Splashtop Remote Desktop ($4.99)
10. Draw a Stickman: EPIC ($1.99)
11. Bridge Constructor ($1.99)
12. Doodle Kingdom ($0.99)
13. Sticks ($3.00)
14. Roseistry ($0.99)
15. LEGO Star WarsTM Microfighters ($0.99)
16. Doodle God ($0.99)
17. Airport Mania 2: Wild Trips HD ($4.99)
18. Doodle Tanks HD ($2.99)
19. Bloons TD 5 ($2.99)
20. Cubistry ($0.99)
21. Pumped BMX 2 ($2.99)
22. Halloweenistry ($0.99)
23. Battlepillars ($2.99)
24. Time Mysteries 3: The Final Enigma (Full) ($4.99)
25. sugar, sugar ($0.99)
26. Time Mysteries 2: The Ancient Spectres (Full) ($4.99)
27. Pipe Puzzle - Premium ($0.99)
28. Continuity 2 ($0.99)
29. Airport Mania: First Flight HD ($4.99)
30. Ichi ($1.60)
31. factory balls ($0.99)
32. Doodle Devil ($1.99)
33. HUEBRIX ($0.99)