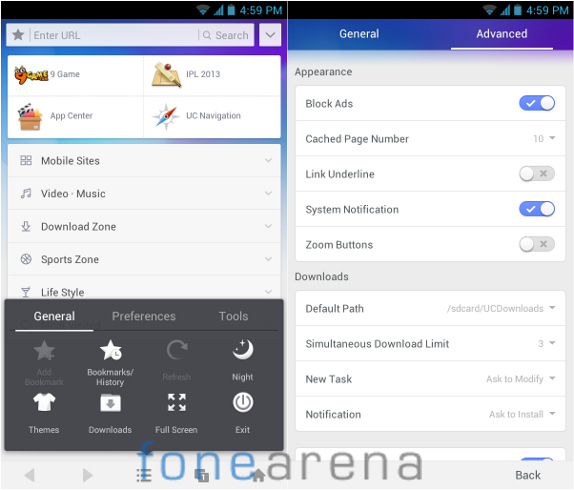 UC Browser for Android and Java phones have been updated to version 9.0. The new updated brings UI enhancements, offline mode and lot more new features for the Android version. The Java app brings new UI, UDisk, better audio and video playback and more. UC Browser for iPad 2.0 was released recently that brought better performance, View it Later and more. UC Browser crossed 400 million users across 150 countries recently. It hold 25% market share in India, says the company.
Features of UC Browser 9.0 for Android

UI Enhancement: Multiple start screens, unlimited speed dials and ability to drag and drop shortcuts or favorites to create folders
Watch Offline: Cache your favorite online videos to view them later even without a network connection
Customized Themes and Wallpapers:Change the way your UC Browser looks by downloading themes and wallpapers.
Incognito Browsing: History, Cookies, Forms and Search will not be recorded
Ad Blocking: Intelligent blocking of advertisements in WWW sites without breaking the layout of the webpages
Improved Screenshot Taking: Take screenshots of any webpage, crop your screenshot, and use the pen tool to write on them
Features of UC Browser v9.0 for Java phones

UDisk: UCWeb's free online storage offers 2GB of permanent storage, and 4GB of storage space for 7 days
Fast Video and Audio Playing: Play video and audio files smoothly by having UDisk download them for you, and then play them directly on UDisk
Account Information Saving: Users can save their usernames and passwords that makes logging-in convenient
Improved User interface: Optimized user interface with improved menus and night mode functionality