Touchscreen Nokia N97 is the next step ahead with full QWERTY
02 Dec, 2008 |
The Nokia N97 is most definitely one of the most loaded N-series devices out there, but that's not it's all about. The N97 is the first high-end device powered by the latest touchscreen Symbian S60 OS. And if the 3.5-inch touchscreen display is not enough for you, you can always slide-and-tilt it up so the large full QWERTY keyboard gets revealed.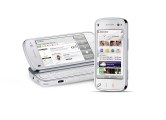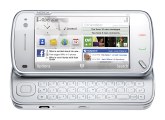 Nokia N97
Tri-band HSDPA and quad-band GSM ensure world wide roaming, but the new Nokia N97 also boasts 32GB of internal memory, a 5 megapixel camera, Wi-Fi, GPS, touch-enabled Nokia Maps with a digital compass, an accelerometer for auto screen rotation and a proximity sensor for auto screen turn-off during calls.
The 16M color 3.5-inch touchscreen TFT display has a resolution of 360 x 640 pixels that should meet all your handheld widescreen multimedia needs. Of course all the basics are covered too - with stereo Bluetooth, 3.5mm audio jack, TV-out and FM radio with RDS.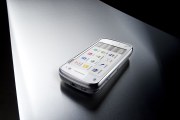 Nokia N97
As you can imagine the loaded Nokia N97 is quite hefty - it weighs 150 g, but size-wise it's not bigger than say, the Apple iPhone 3G (except in thickness, that is).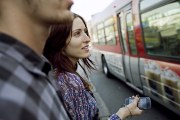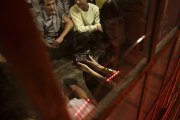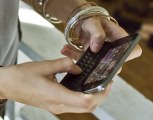 Nokia N97 lifestyle shots
You may remember that we published the leaked Nokia smartphone roadmap and as it seems, the Nokia N97 is quite close in its description to the handset codenamed IP08 in this table. Have a look around. The good news is that obviously the roadmap is legit and there are some quite interesting handsets under way.
The Nokia N97 will be available in Q2 2009, at an estimated price of 550 euro before subsidies and taxes.