It's no secret that Motorola are going all-in with the Android hand so the announcement of Motorola BACKFLIP Android-running smartphone should come as no surprise. What might shock you, however, is the form factor, which is not like anything else we have seen so far.
As you can see from the photos below Motorola BACKFLIP just couldn't have been a more suitable name. We didn't really want to believe that it is possible when we first saw it but here it comes. The full-QWERTY touchscreen smartphone runs on Android 1.5 and has the company proprietary MOTOBLUR interface preinstalled.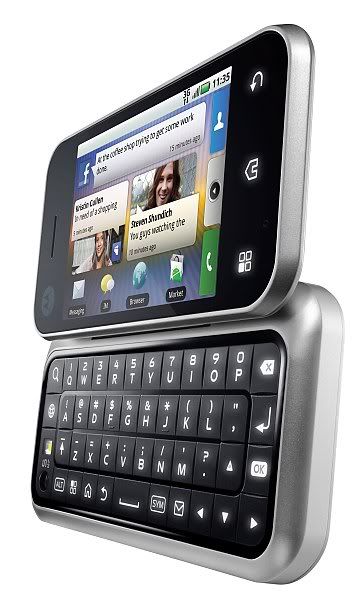 The display of the Motorola BACKFLIP measures 3.1" in diagonal and sports HVGA resolution. The handset is built around the MSM7200A Qualcomm chipset, which means a 528 MHz CPU and 256MB of RAM. The internal memory is 2GB and is expandable through the microSD card slot. The tri-band 3G with 7.2 Mbps HSDPA complements the quad-band GSM/GPRS/EDGE support.
The other noteworthy features of the Motorola BACKFLIP include a 5 megapixel autofocus camera, 3.5mm audio jack, Wi-Fi, GPS, USB and Bluetooth.
Motorola BACKFLIP also packs a new and unique BACKTRACK feature - a touch panel located on the back of the screen that allows you to scroll through Web pages, texts, e-mails and news feeds without touching the screen itself. Yeah, we said "new and unique", not "practical".
Motorola BACKFLIP is expected to be available in North America, Latin America, Asia and Europe starting from Q1 2010. Unfortunately there is no information about its pricing just yet.