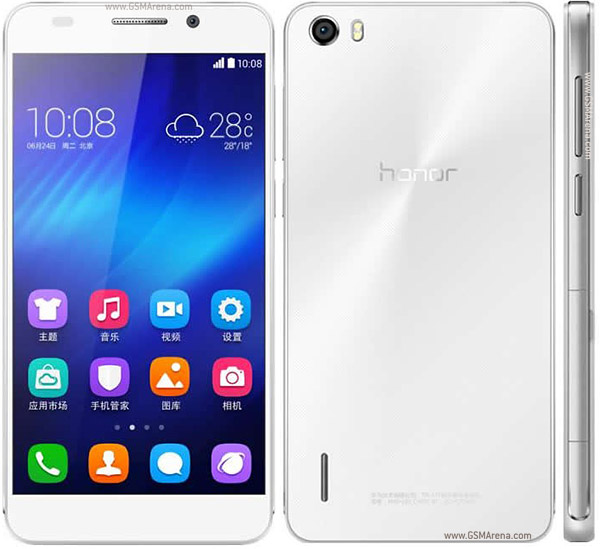 Specifications
1.7 GHz Octa-Core Processor
Built-in co processor with ultra-low power consumption and the ability to detect external sensors in standby mode.
(For waking up the phone with 'OK Google' Moto Xs-style voice commands!)
3 GB RAM & 16 GB ROM
SD Card Slot with upto 64GB additional storage capacity
12.7CM (5") Full HD In-Cell screen
Compact design with a 2.86MM ultra thin frame and a 75.7% screen-to-body ratio.
13 MP Sony BSI Rear Camera
Double click on volume down button takes photo when screen is off, in 0.6 seconds, for instant shots.
Back illuminated 5 MP front camera with 1.4um pixel size, 88° angle of view, and the capability to take panoramic selfies
Full HD video recording.
3100 mAh battery
ROG (720p) mode for extended battery life.
Ultra power saving mode in which a 10% battery charge can be used for an additional 24 hours.
HONOR 6 Tips and Tricks
Useful Tips and Tricks
1. During black screen, press and hold down the volume keys (-), after hearing the voice say the name can call contacts. (need to enable "Quick call" settings in settings>apps>more>call>quick call)
2. During black screen, press twice the volume down key, you can take pictures then enable camera.
3. On the drop-down notification bar, if pull from top left corner will bring you notification drop-down, top right drop-down will show Shortcut.
a) When there is notification, above method will only bring you to notification (not Shortcut).
4. On Home screen, pull down from the middle of screen will bring search function. (Huawei Home Launcher)
5. Long press the volume keys (-) and power button for two seconds you can screenshots.
6. On Magazine lock screen (Without unlocking), slice up you could operate: the freedom to switch wallpaper, and you can save favourite pictures calendar, calculator, flashlight, camera.
7. On Magazine lock screen, double tap the screen to enter the lockscreen music interface. Double tap to go back to Magazine lock screen.
8. Camera on Selfie mode (Front camera) tap the screen will automatically take picture after three seconds.
9. All Focus mode can adjust focus after photograph taken.
10. In Camera Gallery, you can pull down to take pictures.
11. When using mirror, blow the mic to make fog on screen. If you blow further, the fog will quickly disappear.
12. Long press power button you can enter appropriate settings interface.
13. You can rearrange Shortcuts when pull down notification by pressing the last icon (Square Box edit).
14. The camera can automatically search bar codes, two-dimensional code, click on to show details.
15. Long press on camera screen, you can drag the focus frame and metering box, you can adjust the focus and metering points, respectively.
16. Switch to 720p screen resolution: Settings > screen saving
17. Photos grouped on map: From gallery settings turn on location settings. Then go to the photos/gallery and from the "time" view mode a gps icon will be visible, click on that icon, and the photos are shown on a map.
18. Quick share: From gallery with image/item open> swipe up.
19. Arrange album order : From gallary, go to list view>long press on a album> it enters into a edit mode where you have to touch the lines that appear on the left end of each album + drag, to move them.
20. From camera app, swipe up on screen to go straight to album.
21. From dialer/contacts/message app swipe down from top to reveal your own profile, and QR code.
22. Create shortcut for any video, music, etc on home screen: From Huawei file manager app> long press on item> shortcut
23. Emui themed weather widget can be expanded from 4x1 to 4x2 size, to reveal weather for more days
24. To set default location to be shown on clock/weather widget, touch the tiny home shaped icon/location name show on the widget.
(There is also some way to show dual clock on widgets. I got it somehow before but don't remember how. The dual clock on lock screen works fine via Settings>data & time> bottom most option)
25. Phone finder: Huawei cloud app> more cloud service>phone finder
26. Verify if phone is fake: HiCare app>phone authentication
27. Message notification pop up: message app> settings
28. End call with power button: settings>accessibility
29. Floating video: from video app selecting the twin arrow icon on top
30. Try landscape mode in Calculator and Music app.
31. Remove sim card and restart to access China region exclusive themes (might not work for L04 model).
32. SD card as Default storage location : settings>storage (at the bottom)
33. Change the default apps: Settings> Manage apps > default apps (at the bottom)