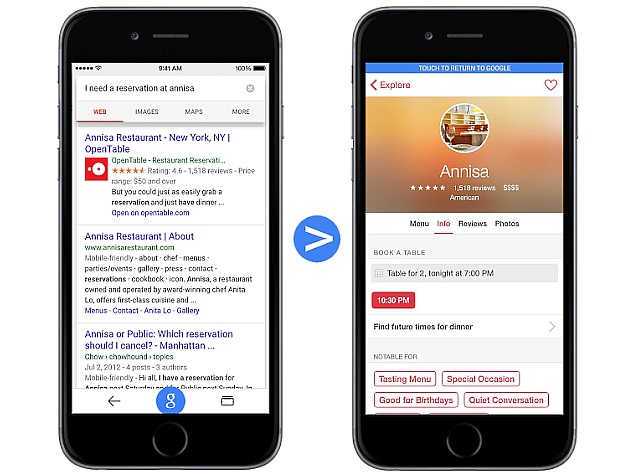 Google's mobile searches on Android have been
displaying relevant information from Android apps for a while now that were indexed by the
company. The company last month even started prompting users to install an app if it had relevant content to the user's search query. The company is now all set to bring the same
feature to iOS. Google on Wednesday announced that it is bringing App Indexing to iOS apps. This will mean that iOS users on iPhone, iPad, and iPod touch will now get
content from mobile app straight from Google
Search. Confirming the news, Google's Eli Wald, Product
Manager in a blog post, revealed that the company is already working with an initial
group of apps and indexed links for these apps
will start showing up on iOS in search results in
the coming weeks both in the Google Search
app and Chrome for signed-in users globally. Additionally, Google has detailed ways how
developers can get their apps indexed on iOS.
"While App Indexing for iOS is launching with a
small group of test partners initially, we're
working to make this technology available to
more app developers as soon as possible," said Wald in the blog. Developers to get app indexing for iOS will have
to add deep link support to their iOS app; will
have to make sure to return to Search results
with just one click, and providing deep link
annotations on the site. The search engine also wants to hear from
developers who are interested for getting their
apps indexed for iOS; though points out that
expressing interest will not guarantee them
getting app deep links in iOS search results. For developers, Google revealed that it has a talk
titled "Get your app in the Google index" at I/O
2015 kicking off Thursday.