Asus ZenFone 4 is the cheapest of all the three smartphones from the Zenfone series. The entry-level phone was launched in India last month for Rs 5,999. Asus has launched the phone in two versions viz, the A400CG and A450CG. The former has a 4 inch screen and a 5-megapixel camera, whereas the latter, which is not available for sale in India yet, has a 4.5-inch screen and an 8-megapixel camera. Let's take a detailed look at the Asus Zenfone 4, A400CG black color model in our review.
Unboxing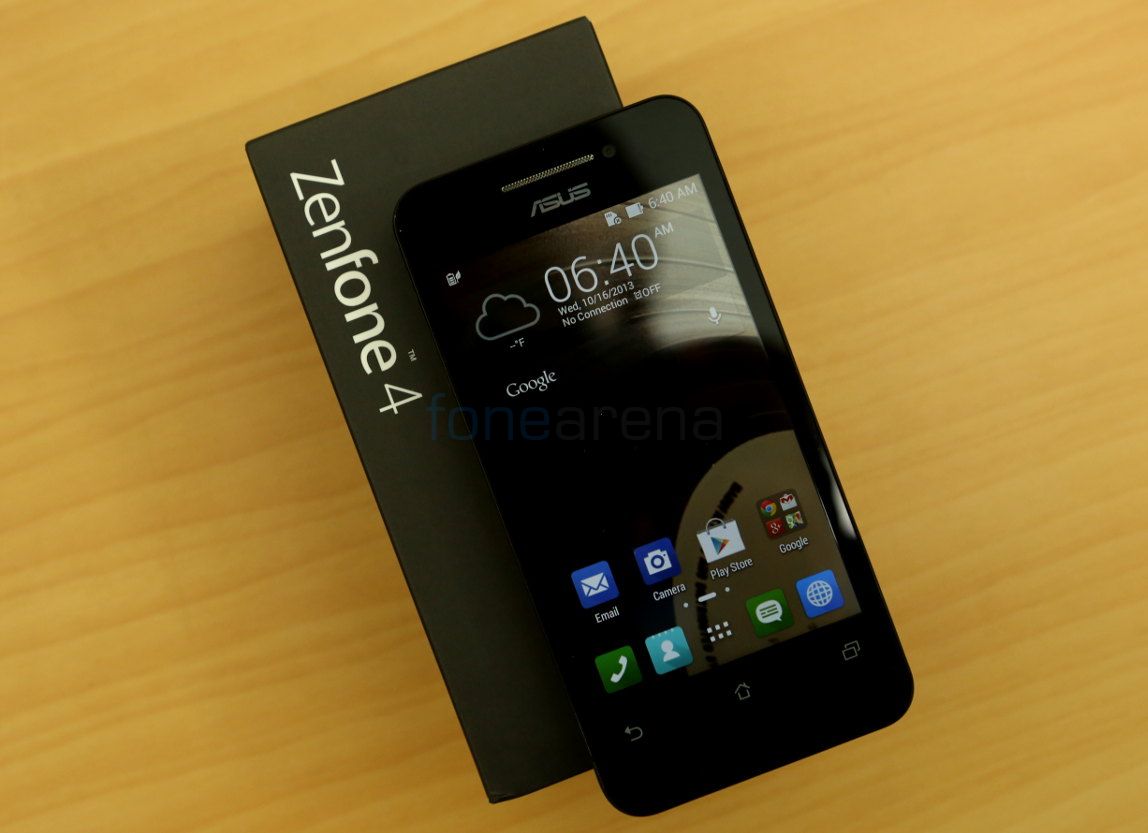 Check out our unboxing of the Asus Zenfone 4 to know about the box contents.
Design and Hardware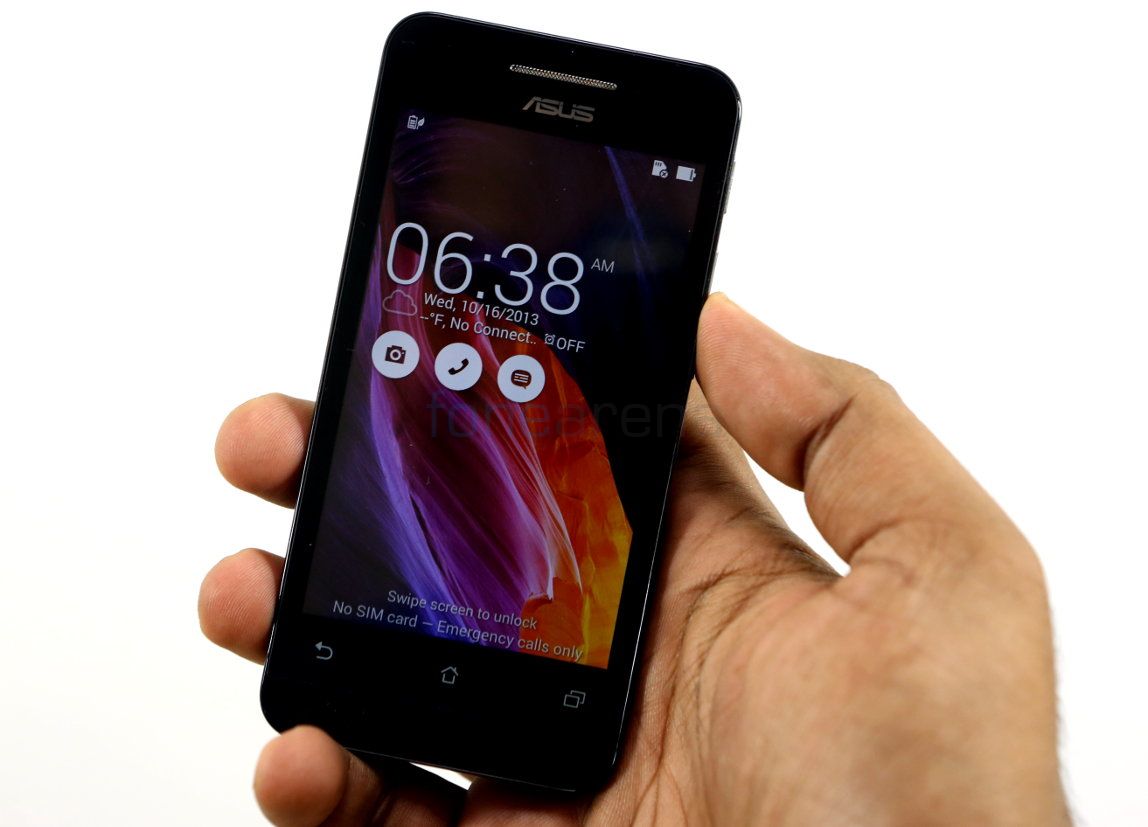 The ZenFone 4 is compact and can be easily operated with a single hand. It is a bit curved at the back and has a rubber matter rear panel that offers a good grip. Asus has put a lot of efforts to make the entire Zenfone series smartphone appealing and that applies for the Zenfone 4 as well. The phone comes in five colors – Charcoal Black, Pearl White, Cherry Red, Sky Blue, and Solar Yellow. It has a 0.3 VGA front facing camera along with LED notification on the front. It has proximity sensor, but lacks an ambient light sensor for automatic brightness control. It is 11.5 mm thick and weighs 115 grams.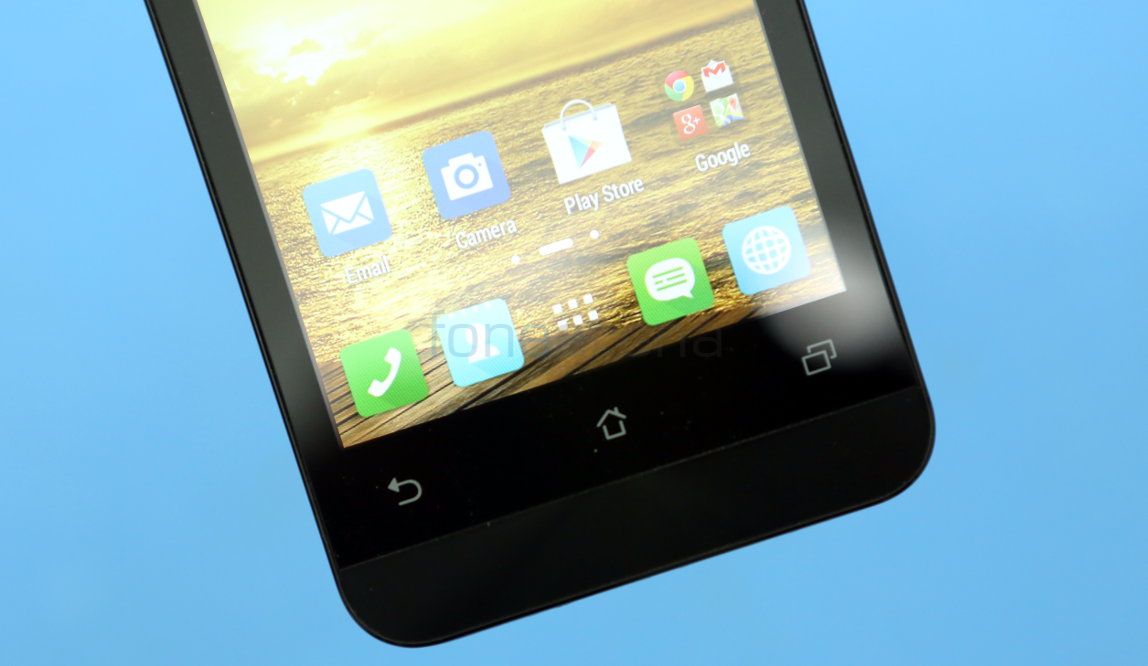 Like other Asus trademark devices, the phone has brushed metal that are a bit thick at edges. It has three capacitive touch buttons for back, home and menu, below the display. Below these buttons, the phone boasts of a black metal strip that adds a premium look to otherwise simple handset.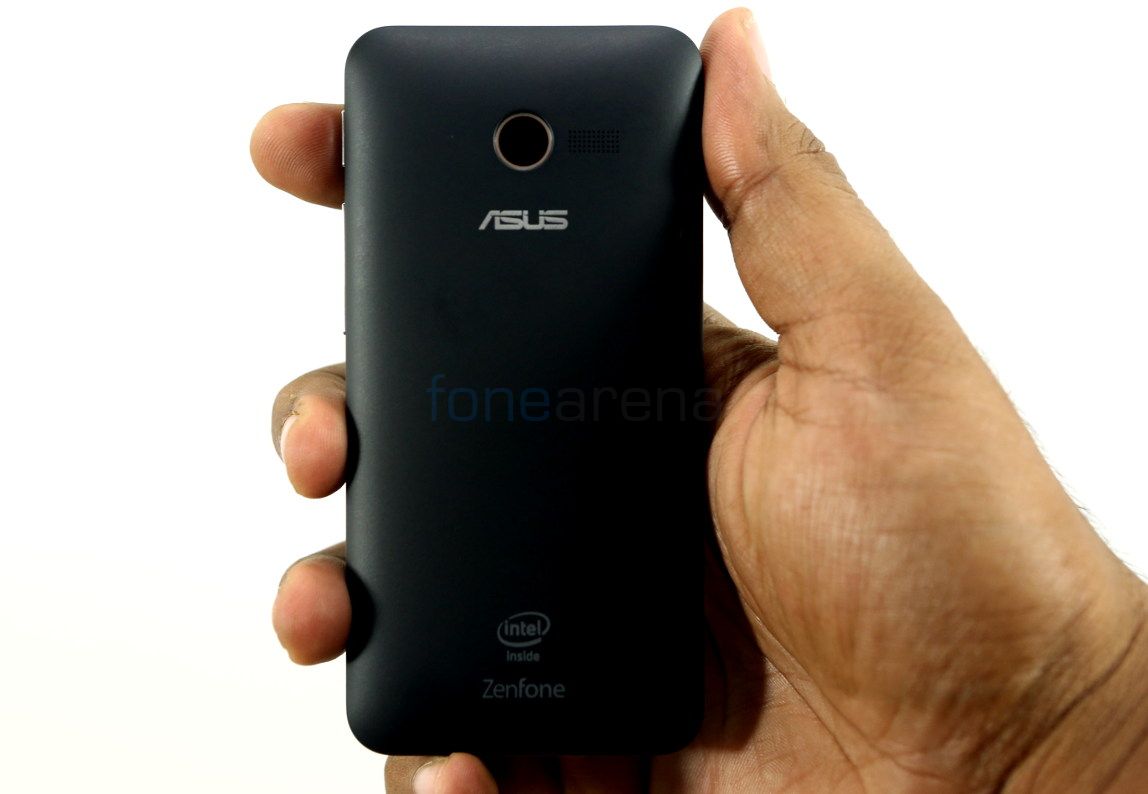 The volume rockers buttons are present on the right with the power lock button while the micro USB slot is present on the left side. There is a 3.5mm audio jack and a secondary microphone at the top .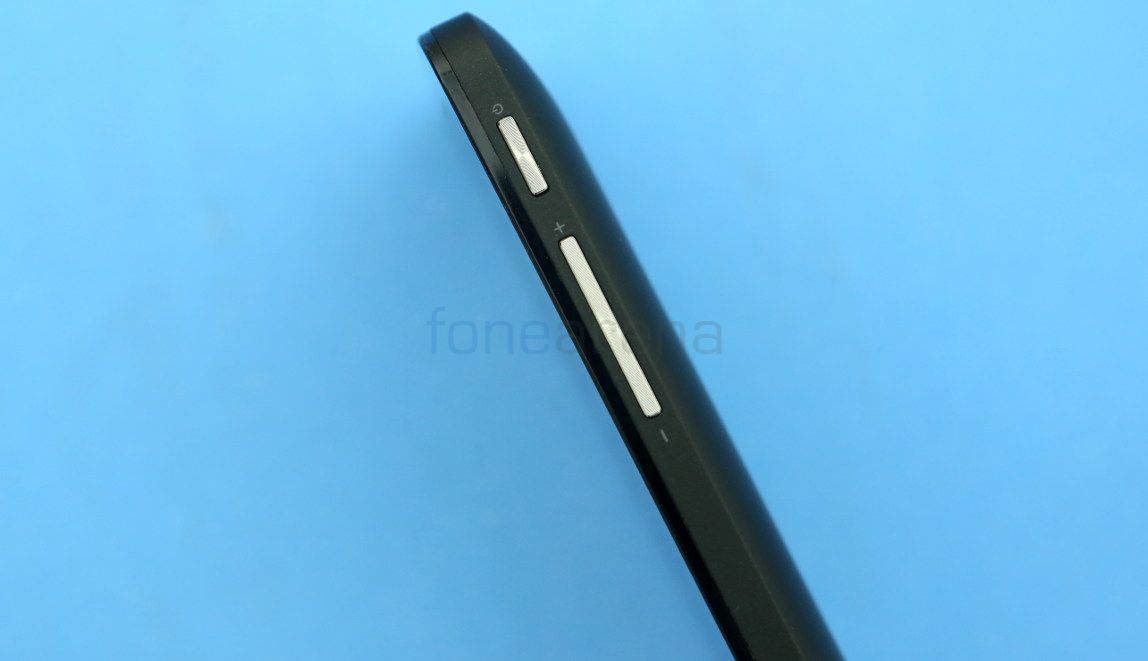 The rear back end boasts of the Zenfone and Intel inside branding. While on the top rear back we have the 5MP camera without flash and the Asus logo. Also present next to camera are the speakers. The phone has plastic black matte finish unlike the metallic one found on Zenfone 5. It has a removable back cover along with 1600 mAh removable battery. There is a microSD card slot at the top, under the back cover.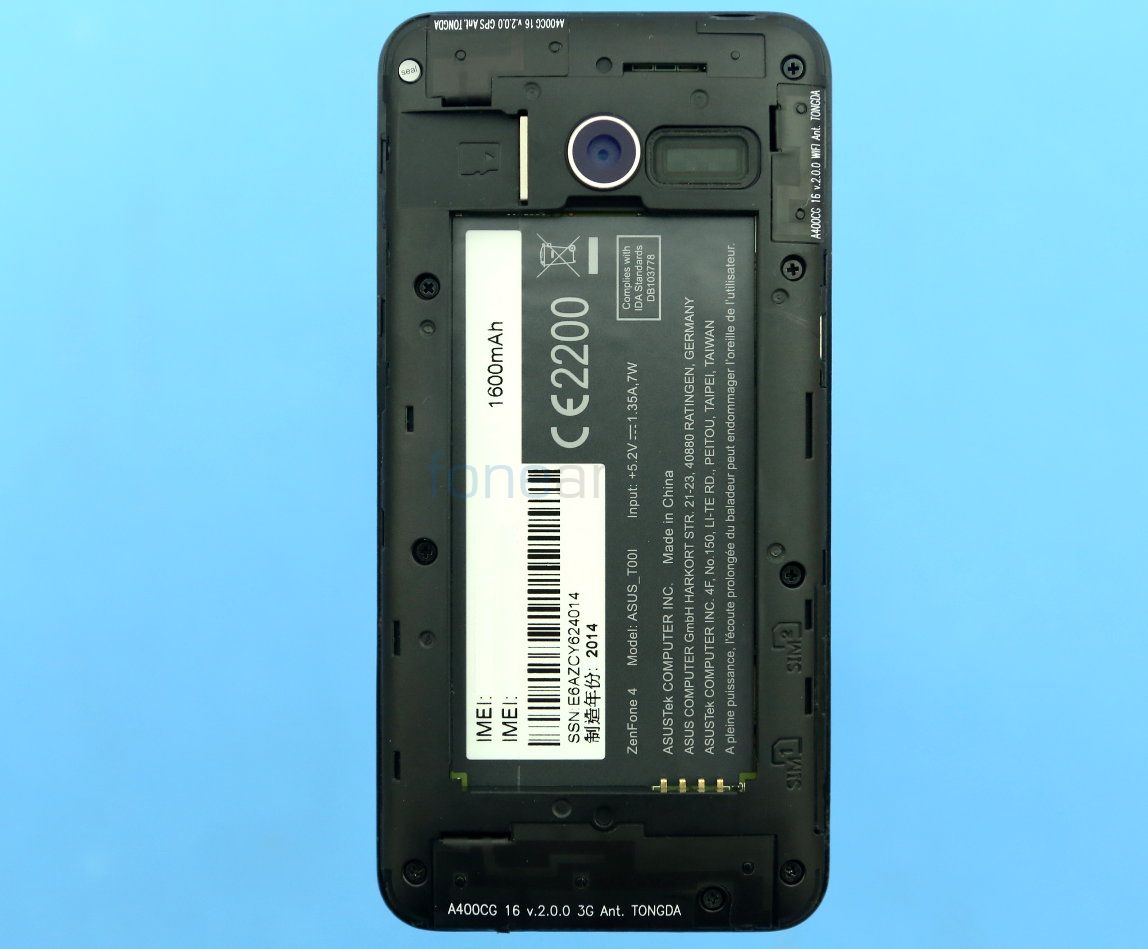 Being a dual SIM phone, it has two micro SIM card slots. The Asus Zenfone 4 has 1GB RAM, 8GB internal memory and expandable memory up to 64GB.
Display
As the name suggests, The Asus Zenfone 4 has 4 inch (800x 480 pixels) screen with capacitive multi-touch display. It has Corning Gorilla Glass 3 protection. The screen is not bright and offers satisfactory viewing angles. It is good for standard news reading and browsing. Viewing angles for indoor are also good however they are not the best during the outdoor as the screen is reflective.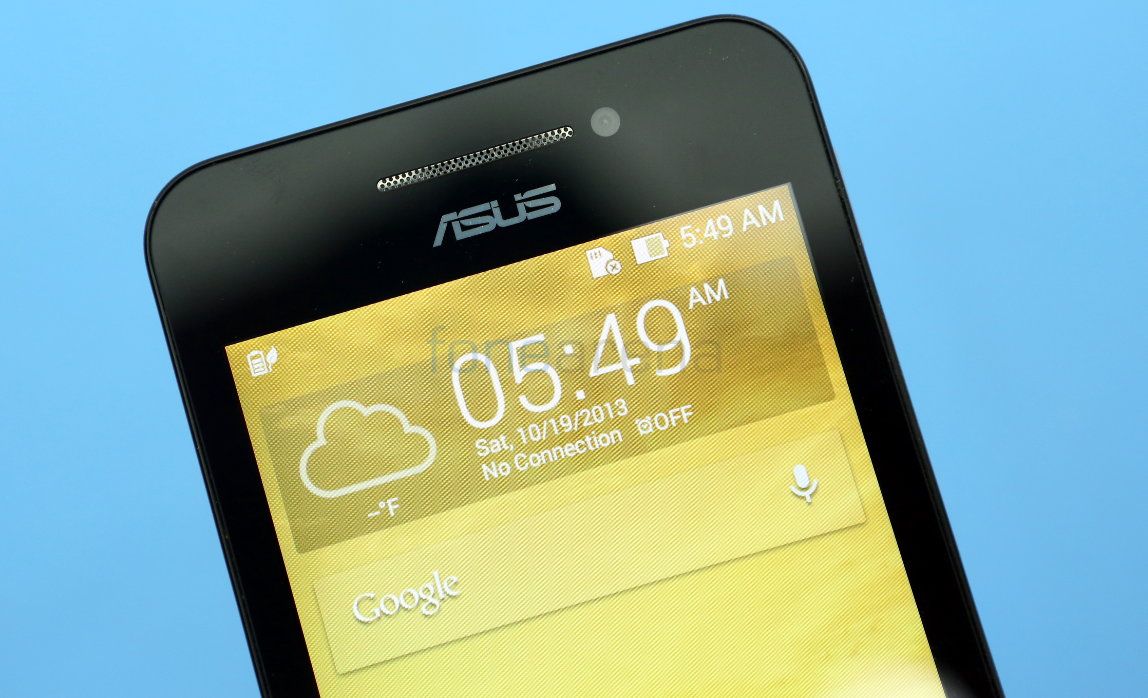 Moving on, the touch screen on the phone is really fluid and smooth for the price tag of Rs 5,999. It feels responsive while swiping screen thereby giving hassle free navigation.
Software
The Asus Zenfone series boasts of a customized Zen UI that sets the apart from other Android smartphones. Similar to other Zenfone series smartphone, this one also gets the Zen UI elements that make up for the average display to some extent. Home screen and lock screen of the phone is attractive, which makes a low-end device feel classy. The lock screen has shortcuts to launch apps like the camera, dialer and messaging. In addition there is a What's Next feature cum widget that shows your upcoming appointments and important calendar events.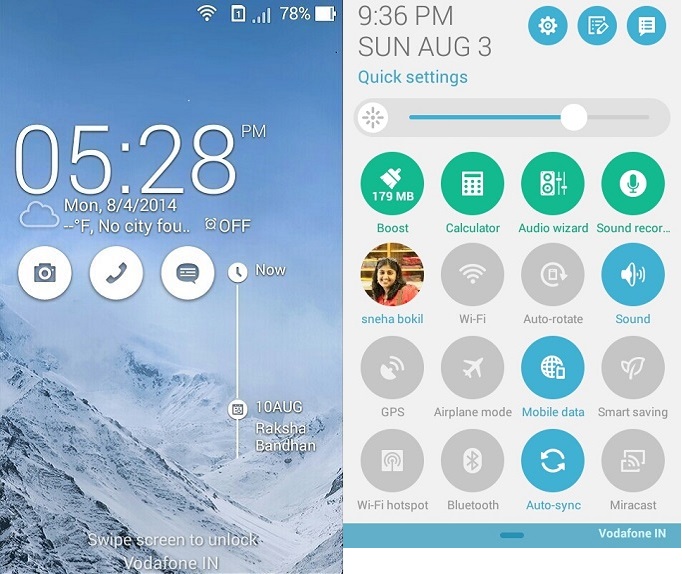 The notification panel on the phone is also attractive and are encompassed in a bubble resembling the chat heads from Facebook Messenger. The bubble like circular tabs can be found in dialer app as well. Glove Mode and Reading Mode that we saw on the Zenfone 5 and 6 are missing on this phone. Also, the Easy Mode which changes icons and text to a larger font is absent from this handset.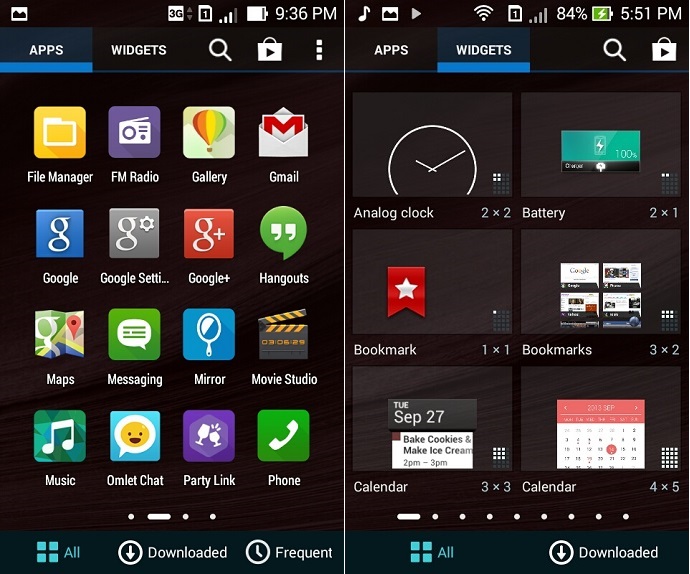 There are a bunch of cool pre-loaded apps like Do It Later, SuperNote, Splendid, WebStorage, AudioWizard, PartyLink Share Link Mirror and Omelet chat. Again such additional app offering puts more power to the budget handset and gives it an extra edge. One of the most disappointing features of the phone is the Asus keyboard which is too tight. The cramped up keys result into poor typing experience even for a person with small hands and fingers.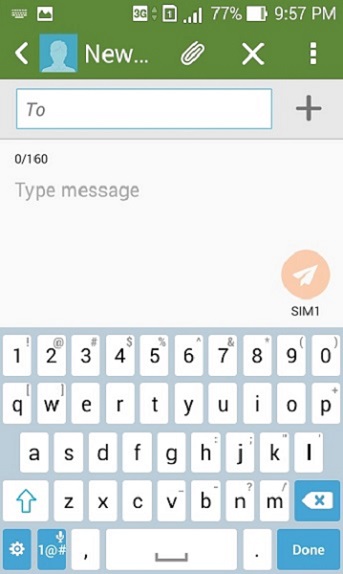 Music and FM Radio
The phone offers decent quality music via its loud speakers at the back however it is not the best. It also has a built-in FM Radio that lets you add up to six radio stations. Again, the UI for the both the apps is attractive and peppy. Similar to other Zenfone series phone there is a AudioWizard that offers several audio enhancements such as Power Saving mode, Music Mode, Movie Mode, Recording Mode, Gaming Mode and Speech mode. You can adjust the audio based on your preference.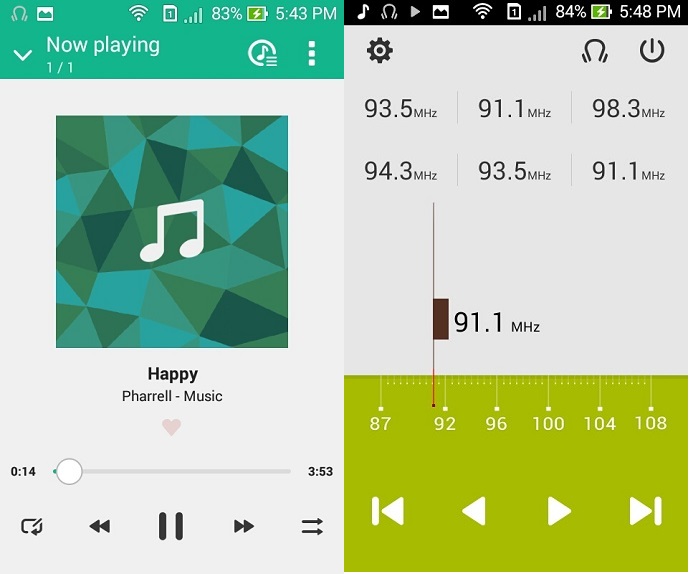 The Asus Zenfone 4 offers about 4.61 GB usable memory from total of 8GB memory. Compatible Apps can also be moved to SD card.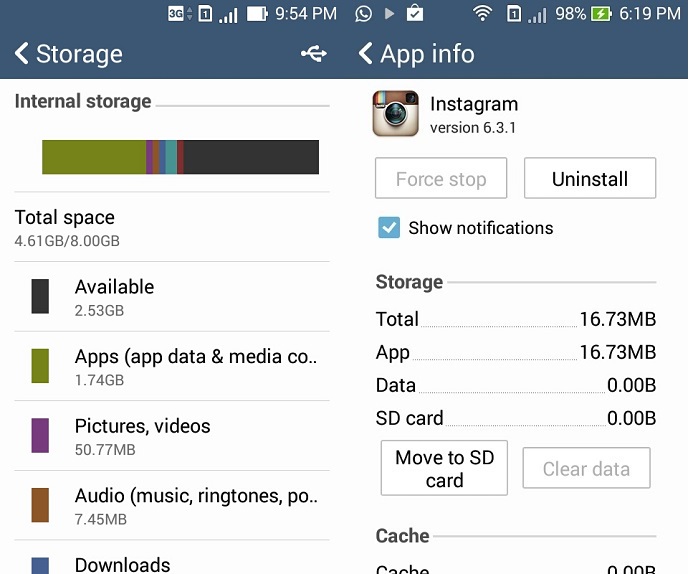 Call quality
Surprisingly, call quality on this low-end device was good as compared to Zenfone 5 and Zenfone 6. We did not face any disturbance, lag or call drop during our testing period. Also, the speaker on the phone is good and delivered clear and loud sound.
Performance and Benchmarks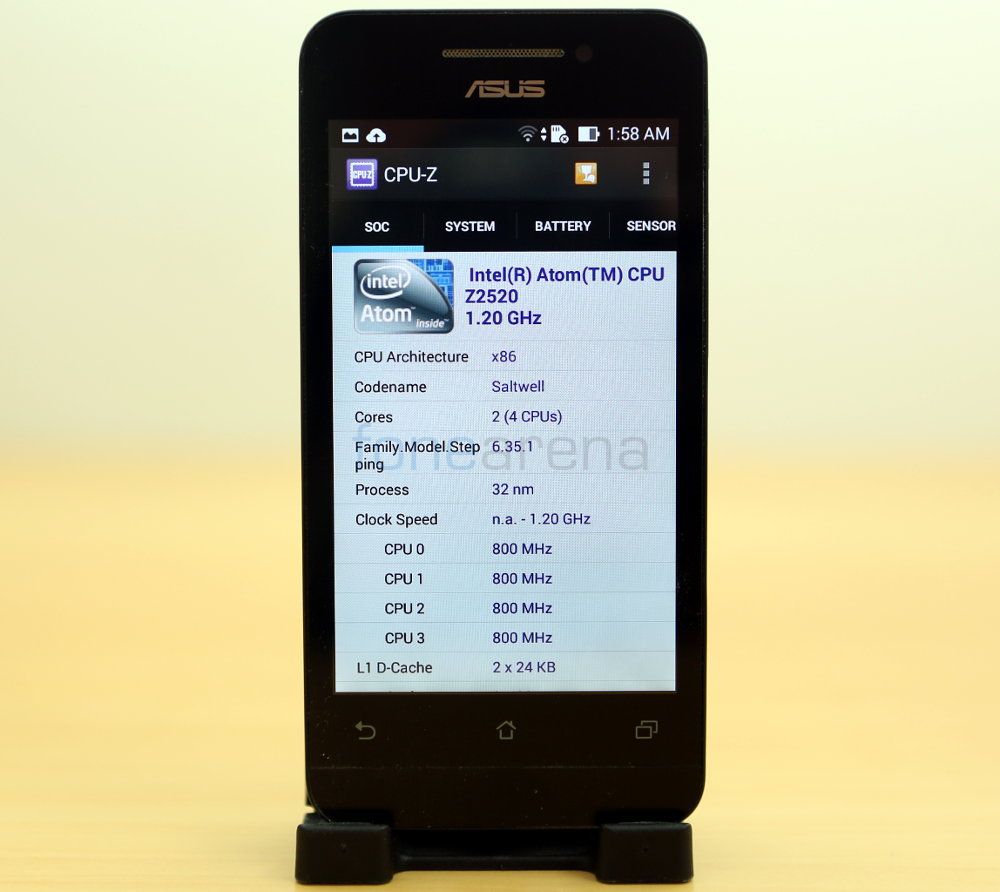 Powering the Asus ZenFone 4 is a 1.2GHz, dual-core Intel Atom Z2520 chipset built on a 32nm HKM process. It also has 1GB RAM, and PowerVR SGX544MP2 graphics. The phone did not freeze at any point on our testing period however it did face some lags while playing games and accessing Chrome browser. It did not deliver a sluggish performance otherwise which is definitely one of the plus points of the phone.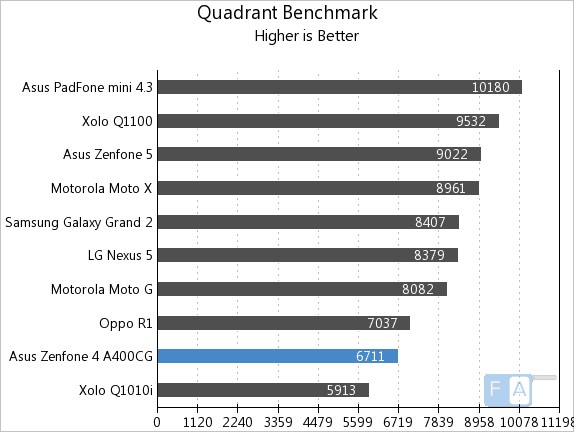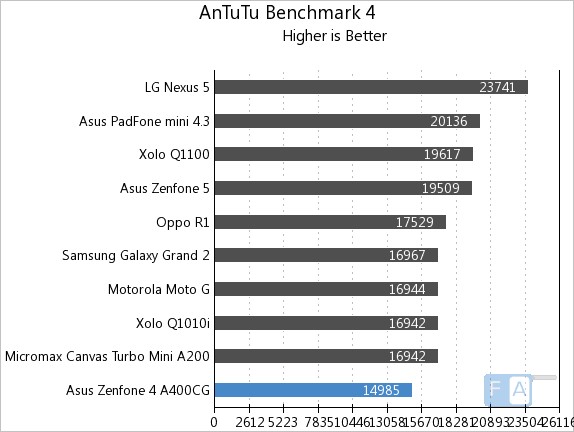 Check out the complete set of Benchmarks to know more about the synthetic benchmark scores.
We tried games like Real Boxing, Riptide GP2, Dead Trigger and Subway Surfers 2. Check out our gaming review for more info.
The phone felt quiet responsive while playing games barring minor glitches however the poor display quality does not bring out the best of graphics that are present in these games.
Facebook and WhatsApp are undoubtedly two most important apps used daily by an average smartphone user. The Zenfone 4 was able to download the Facebook app unlike the Zenfone 5 however, the news feed did not load properly on 3G connection and only on a WiFi connection. While in case of WhatsApp, no video or images were downloaded on a standard 3G except for WiFi. Except that the phone did fare well for simple tasks. In term of connectivity, the Zenfone 4 has support for 3G HSPA+, WiFi 802.11 b/g/n, Bluetooth 4.0 and GPS.
Camera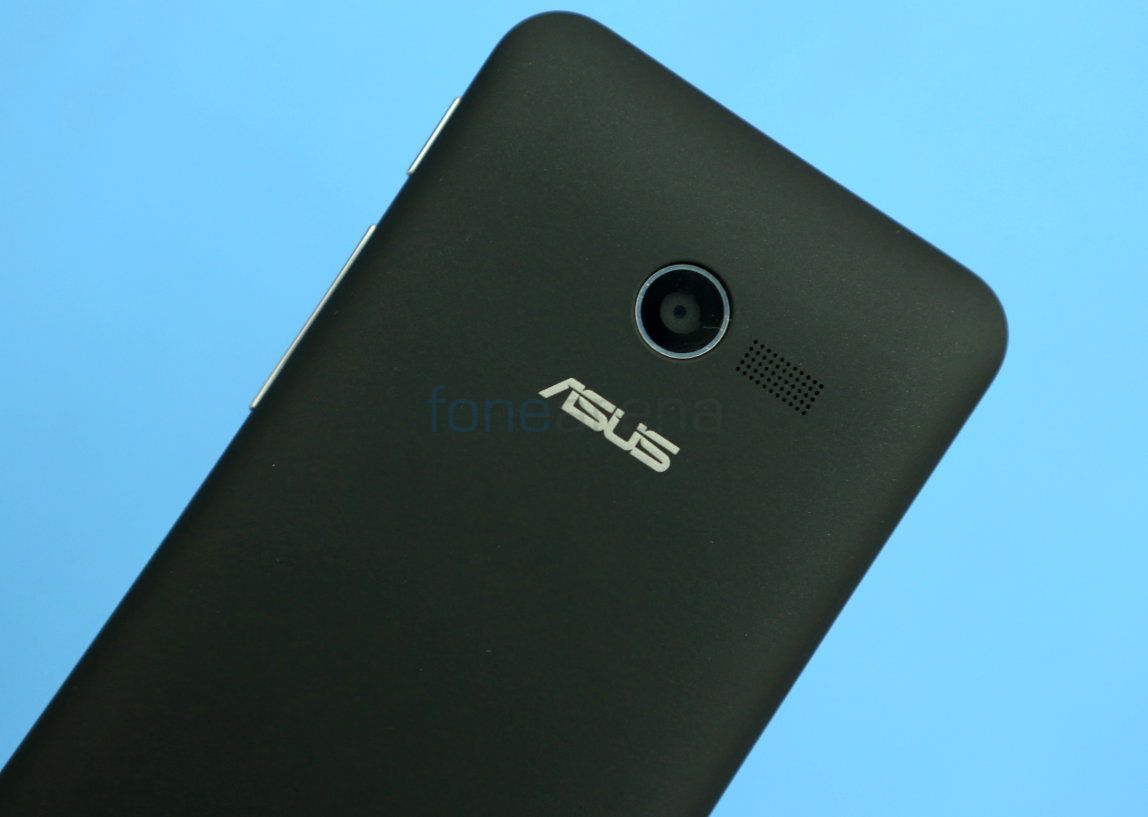 The 5MP camera on the Zenfone 4 is not the best but takes decent photos. Asus is offering Auto focus on this one which is a welcome move unlike its competitor Moto E which had to settle for a fixed focus shooter. Similar to other Zenfone series smartpone, the Zenfone 4 also has the 'Pixel master ' technology. The camera disappointing and takes average photos as they turned out to be grainy. There is no major difference between Auto and HDR photos. In fact the photos in Auto Mode are better than that on the HDR. However, the phone does offer a range of modes including panorama, selfie, miniature, night, GIF animations and so on. In addition there are a bunch of filters to spruce up your photos like sepia, negative, grayscale and others. These extra additions can enhance the otherwise average photos.
Auto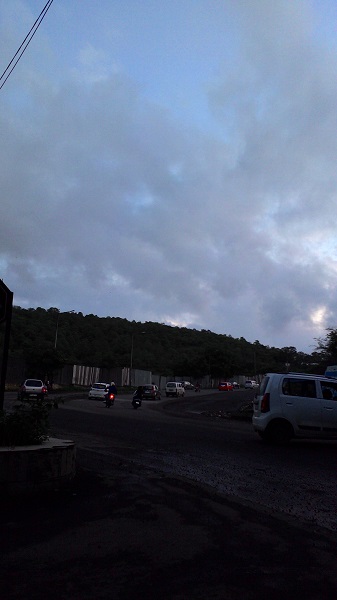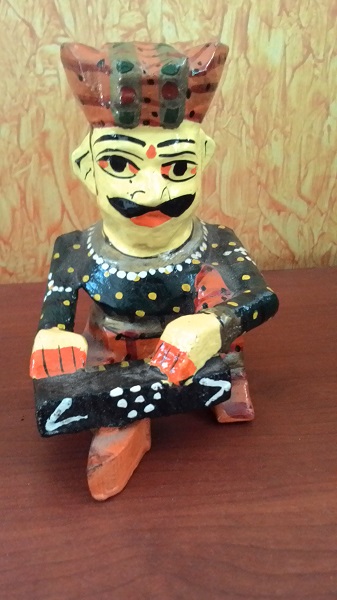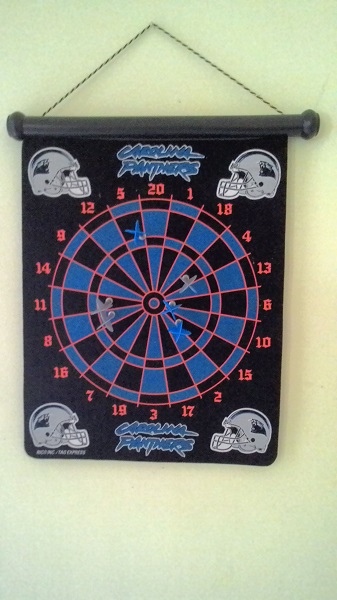 Photo in Auto Mode were satisfactory and came out okay. There were certainly better than the one taken with HDR Mode.
HDR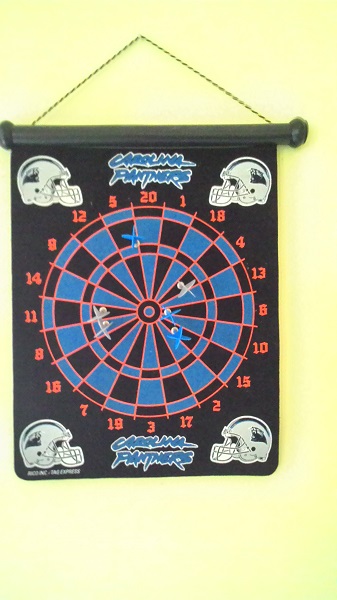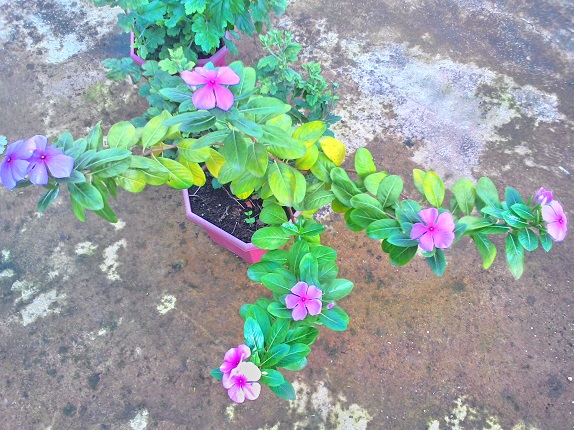 HDR shots were very poor as they added quiet a bit noise to the photos and changed the original shade of the photo. Also, it added a yellowish tinge to photos, thereby deviating them from displaying the original colour and light balance.
Night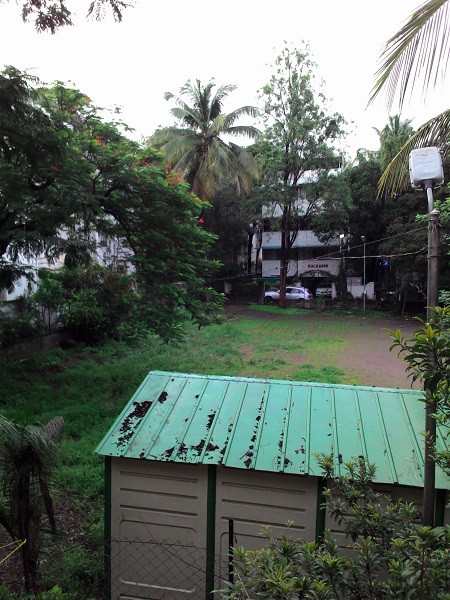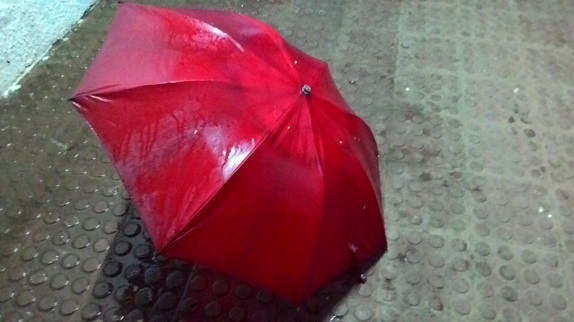 The Night Mode photos were also average and came out grainy. As the camera does not have a flash low-light photos turn out to be poor. Finally, that leaves us with a tiny 0.3-megapixel front-facing camera which is very poor and not good enough to take any kind of photos.
Video
The Zenfone 4 supports 1080p video recording. Here is a sample of the video.
Battery Life
Another area where the Asus Zenfone 4 disappoints us is the battery life. The 1,600mAh removable battery barely lasts a day with regular to medium use. On a full recharge, the phone lasted for 5-6 hours on basic use like radio, social media and occasional gaming. The power saver option offers several Smart saving modes such as Customized mode, Optimized mode and Ultra-saving mode. These modes can extend the battery life by limiting the CPU use.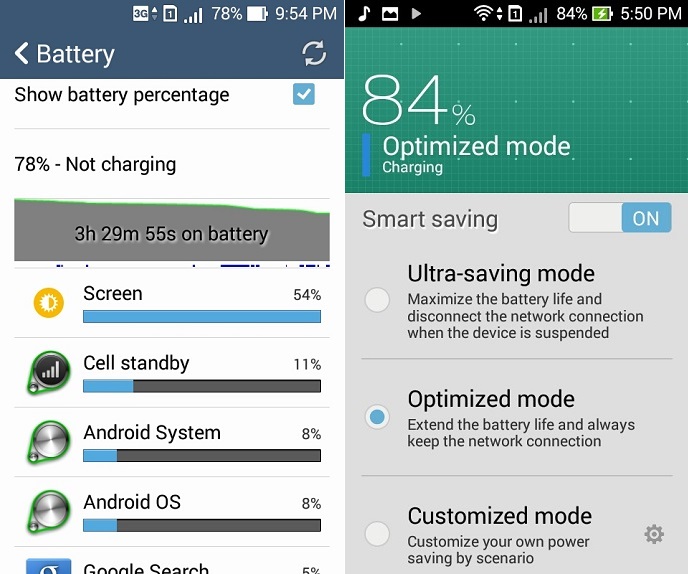 Conclusion
To sum up, the Asus Zenfone 4 is a good device and offers more in terms of build quality, attractive UI and storage space considering the Rs 5,999 price tag. 1 GB RAM does result into medium multi tasking up to some extent which is a surely one of the plus points of the phone. However, we feel that it could have offered a much sharper display and a good camera which are two of the most important features of any smartphone. Asus got the pricing and device in whole right for the Zenfone 5 and Zenfone 6, as both the devices and same goes for the Zenfone 4. We expect that that the A450CG Zenfone 4 model could offer better results owing to an 8MP camera with flash and a 4.5 inch screen.
Pro
Cons
Display
Camera
Battery Life
Source - Fonearena