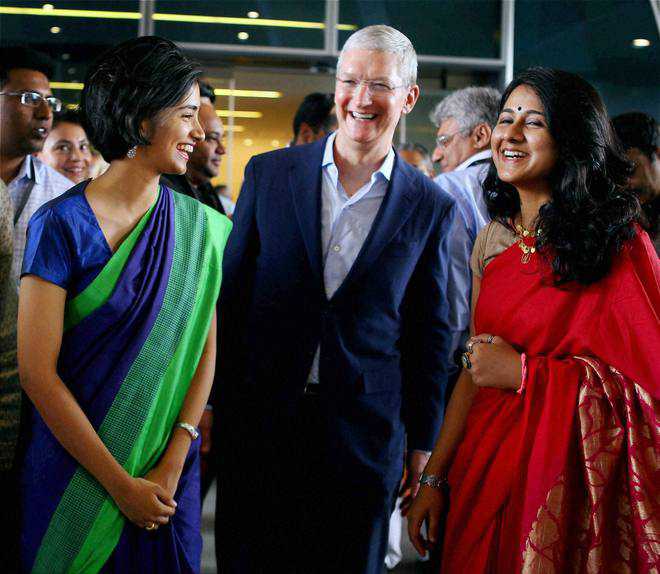 Technology giant Apple Inc. today opened its first development centre in Hyderabad, billed as the largest facility outside the US, to work on development of Maps service for its products, including iPhone, iPad, Mac and Apple Watch.
The new 250,000-sq ft facility, located at Waverock campus in the city's IT hub at Nanakramguda, was inaugurated by Telangana Chief Minister K Chandrasekhar Rao in the presence of Apple chief executive Tim Cook who is on a maiden visit to India.
The centre, which will employ nearly 4,000 people when all phases are completed, is expected to give a major boost to the Brand Hyderabad and help in attracting further investments in the information technology sector.
"Apple is focused on making the best products and services in the world and we are thrilled to open this new office in Hyderabad which will focus on Maps development," Cook said.
Google Maps is the world leader in digital maps category. Apple Maps includes features like 3D views, public transit system, options for shopping, coffee and restaurants.
Without revealing the specific investment details, Cook said his company would introduce more partners around Hyderabad to Apple's platforms as the company scales its operations.
"The talent here in the local area is incredible and we are looking forward to expanding our relationships and introducing more universities and partners to our platforms as we scale our operations," he said.
The Hyderabad facility will provide a world-class, LEED-certified home for the expanding Maps team. "We are honoured that Apple has chosen Hyderabad as a home for its Maps development office," the Chief Minister said.
"This will create thousands of jobs here and is a testament to our proactive approach, quality infrastructure and the excellent talent base we have in the region," Rao said. The development comes as a major boost to the state government's efforts to develop the city as a major international IT destination. Last year, Google Inc. had signed an MoU to set up its campus. Besides, Amazon, IKEA and Flipkart have already selected the city to build their facilities.
Google plans to open South Asia's biggest campus and its only facility outside the US in Hyderabad in the next few years.
"India is unparalleled and the culture of Hyderabad and history is lovely," Cook said, wishing a long-term relation with the Telangana state.
Apple has been continually updating and adding features to maps, including 3D views, the flyover feature, and tools to help customers find convenient places to shop, eat and explore nearby areas. With iOS 9, Apple added transit, offering a combination of trains, subways buses and walking, which is already available for more than 300 cities around the world.