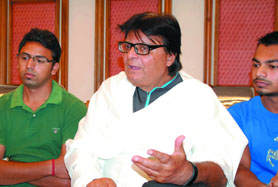 Satish Kaul (born 8 September 1954), a Kashmiri by birth is a veteran actor in both Punjabi and Hindi movies. He has acted in over 300 Hindi and Punjabi films and has worked with bollywood actors like Dev Anand, Dilip Kumar, Shahrukh Khan amongst others. His notable film roles include ones in Sassi Punnu, Ishq Nimana, Suhag Chooda and Patola.
Satish Kaul is regarded as one of the most successful regional film actors of all time. Some people still refer him as the 'Amitabh Bachchan of Punjabi cinema'
Satish Kaul : The reel hero living a tragedy in real life
Kaul, who once owned luxury cars and apartments in several regions, incurred financial losses due to family discords, following which he started small theatre institutes in Ludhiana and Patiala.
His wife has divorced him, and all his life's earnings, when he had invested in an acting school venture in Ludhiana, is gone with the failed project. "I tried to become the Anna Hazare of the acting movement in Punjab, to encourage boys and girls. It was the biggest mistake of my life," said the actor.
Hindi
Pyaar To Hona Hi Tha (1998)
Aunty No. 1 (1998)
Zanjeer (1998)
Yaraana (1995) .... Inspector
Janam Kundli (1995) .... Rajiv Sodhi
Inteqam Ke Sholay (1995)
Elaan (1994) .... Vikas Chaudhry
Pyar Hua Chori Chori (1992) .... Jailor
Khel (1991) .... Vinod Mishra
Bandh Darwaza (1990)
Ram Lakhan (1989)
Paanch Fauladi (1988)
Janam Janam (1988) .... Prakash
Kabrastan (1988) .... Inspector
Commando (1988) .... Satish - Chander's dad
Hatya (1988) .... Mohan
Pyar Ka Mandir (1988) .... Satish
Mardon Wali Baat (1988) .... Inspector Deepak
Khooni Mahal (1987)
Dance Dance (1987) .... Shyam
Aag Hi Aag (1987) .... Birju
Inaam Dus Hazaar (1987) .... Vikram Malhotra
Karma (1986) .... Sunil
Ilzaam (1986) .... Rahim Khan
Anokha Modh (1985) .... Mr. Ashok
Shiva Ka Insaaf (1985) .... Prakashnath
Sheetla Mata (1981) .... Sarju
Bhakti Mein Shakti (1978) .... Satish
Harfan Maula (1976) .... Mahesh
Kasam (1976)
Warrant (1975) .... Dinesh
Mere Sartaj (1975) .... Javed Ahmed Gulrez
Ang Se Ang Lagaley (1974)
Dawat (1974)
Faslah (1974) .... Satish - Gautam's friend
Punjabi
Fer Mamla Gadbad Gadbad (2013)
Saunh Menu Punjab Di (1991)
Sheran De Putt Sher (1990)
Jag Wala Mela (1988)
Suhag Chooda (1988)
Dhee Rani (1988)
Maula Jatt (1988)
Patola (1987) .... Amar
Yaar Gareeban Da (1986)
Peengan Pyar Deeyan (1986)
Babul Da Vehra (1985)
Guddo (1985)
Jeeja Sali (1985)
Kunwara Jeeja (1985)
Munda Naram Te Kudi Garam (1985)
Maanwaan Thandian Chaanwan (1984)
Veera (1984)
Sassi Punnu (1983)
Bhulekha (1983)
Bagga Daku (1983) .... Bagga Daku
Jai Mata Chintpurni (1983)
Vohti Hath Soti (1983)
Angerjjan (1982)
Chhammak Chhallo (1982)
Jatt Da Gandasa (1982)
Yaar Yaaran De (1982)
Rano (1982)
Do Posti (1981) (guest appearance)
Lachhi (1981)
Josh Jawani Da (1981)
Jai Baba Balak Nath (1981)
Ishq Nimana (1980) .... Jeeta
Gori Diyan Jhanjran (1980)
Jatt Punjabi (1979)
Mutiyaar (1979)
Dera Aashiqan Da (1979)